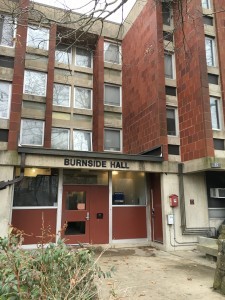 Upon returning to the University of Rhode Island after winter break, some students living in the Roger Williams Housing Complex found their belongings damaged after workers replaced curtains in certain rooms.
"I walked in and my roommate's desk was in the middle of the room," Â Lauren Potak, a junior living in Burnside Hall, said. "There were wires everywhere. My ottoman cover was pushed in like someone stepped on it, and the inside was full of sheetrock and dust. Workers left gloves on her bed, and she discovered pulls in her carpet from nails and other debris. She felt that leaving her room in that condition was unacceptable. Â 
Other Burnside residents had similar complaints, including furniture left pushed into the center of their rooms. Many found sheetrock dust and other residue on floors, beds and on top of shelves.
"Moving everything back was a pain," Sean Hatch, a sophomore Burnside resident, said. He added that workers moved his desk and other objects, which he mistook for being stolen.
Carina Taufiq, a sophomore Burnside resident, said her room was "an absolute mess. All the stuff on my desk was on the floor, desks were pushed into the room, dust was everywhere."
She said she was frustrated that no one from housing told her that workers would come in to change the blinds.
Taufiq said she had to thoroughly clean her room upon returning for the semester. "They came in and moved everything like it was nothing, no one told me to move my stuff but I would've if they had," she said. "Yeah, we know to lock up our stuff, but they didn't warn us people would be in our rooms. We don't know who these people are or what they do."
Assistant Vice President of Student Affairs and Director of Housing and Residential Life John Sears said that he is aware of two formal complaints, and housing is working with the students directly to address these issues. "We are doing window treatments across the Roger Williams Complex," Sears said in an email. "The contractor always has escorts from housing while in the room[s] conducting their work. These are two complaints out of hundreds of rooms we've worked in over the last few months." Â 
Taufiq said she never filed a complaint because she wasn't sure "what her complaint would actually do at this point." Jeffrey Plouffe, associate housing director, is in charge of handling student complaints in this case. Plouffe said he has been made aware of students' concerns, and plans to meet with the director of the building company that installed the blinds, Lonergan Inc. of Warwick, on Feb. 4. He said there was an email sent out to all residents notifying them that people would be entering the rooms to change the blinds towards the end of the semester.
"Since the vendor is insured, we will have the vendor make good on whatever damage [they've caused] or we won't pay them," Plouffe said. "I thought we'd done a pretty good job. I regret that [it wasn't the case]. We'll check into it for sure."
Potak and Hatch have not filed formal complaints yet. However, Potak has contacted her Resident Advisor and Graduate Assistant Housing Director, and plans to file a formal complaint soon.
"I'm aggravated and annoyed," Potak said. "Someone came into my room to put blinds in, and they made a mess of everything. There was no care in anything they did. It's just sloppy."
Plouffe encourages students who have any issues to give a written complaint to their hall director so that housing may look into these cases directly.