University of Rhode Island senior Caitlyn Landry didn't find an organization on campus that interested her during her freshman year, so she started one herself.
Puppy Raisers, an organization that raises and trains future service dogs, has been a part of the campus community for three years thanks to Landry's hard work and experience.
This semester, the club has grown to 50 members. Landry attributed the club's growth and overall success to the Kingston campus itself, adding that the dogs get used to the kinds of situations they will encounter every day as guides.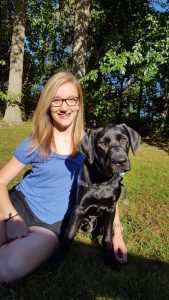 "It's a great environment for dogs to learn the skills they need, and to socialize them," Landry said. "You never know when an ambulance is going to go by, [or] when someone will run up to you. They experience real life [and] we have a plan for when it doesn't always go to plan. That translates to them keeping [someone] safe who can't see."
Landry used her previous experience working with Guiding Eyes for the Blind, a service dog organization, to work on making the club a reality as a student organization. Out of the five dogs trained within the club so far, all of them have found a home at another school after their "graduation," as Landry calls it.
Although the organization had such great success, it certainly hasn't come without a few bumps in the road. Landry said there are quite a few proverbial hoops to jump through before a complex organization like the Puppy Raisers Club can be allowed on campus. Some problems she encountered were "offices, legalities, people's fear of dogs, allergies, [and] how [we] would handle it if an accident were to happen." Fortunately, she said there has still been a "great network of people" on campus who are willing to help sorting through those kinds of problems.
On a more personal level, there are the everyday logistical struggles that come up when raising dogs as a full-time student. It's the "simple things," Landry said, "like that our dogs aren't allowed in labs, or working out our schedules around them." To make things even more difficult, professors also have to agree to allow a dog into their classes, even if the university chooses to allow it. Despite these snags, Landry said that "otherwise, it's gone very well."
This academic year will be Landry's last with the organization that she founded as she plans to graduate in the spring. The fourth and final dog she will be raising is Navy, a black Labrador retriever. She noted that Navy is her "first boy," and struggles more with overcoming distractions than past dogs.
"That's just the challenge [of raising], they're so vastly different," Landry said. "Some dogs struggle with the [service dog] curriculum more than others."
The club will train four more dogs once again this year, each one assigned to Landry or one of the three other full-time raisers who have found the volunteer-based club to be a rewarding experience.
"When my first dog graduated, I met her graduate – the vision impaired person to be paired with a dog – at Guiding Eyes," Landry said. "To meet that person and to see the bond they made in those three weeks together, and her confidence that she [the dog] would keep her safe."
After all the progress the Puppy Raisers have made under Landry's leadership, she said they plan to continue growing and training new service dogs by staying connected with departments on campus after her departure.