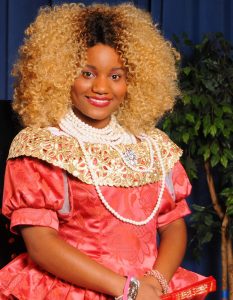 One student at the University of Rhode Island has spent the past four years working on her acting skills and preparing for a goal she's always dreamed of: becoming a film actress.
Catia Ramos grew up watching TV and films and said she knew she wanted to be a part of that scene. However, she believed it wasn't exactly socially acceptable to say she wanted to be an actress because people may have thought she was crazy. So, initially, she didn't tell anyone she wanted to act, even to herself.
That all changed during her freshman year at URI when she took a Theatre 100 course. Ramos explained how she had always wanted to act, but she wanted to see if she actually fit the part. After taking a few classes at the university, Ramos realized that majoring in theatre wasn't a waste of her time, and people began to tell her that she had "raw talent."
"What I love about [acting] is that you get to become these other people," Catia said. "You get to live all these different lives within the life you live and that, to me, is amazing."
After performing in a student play entitled "Spike Heels" by Theresa Rebeck and directed by Alexandra Egan, Catia was nominated into the Irene Ryan Competition, as part of the Kennedy Center American College Theater Festival at Western Connecticut State University. Out of 250 students, she was one of only 15 who ended up making it to the finals.
When Catia first attended URI, she said that she knew nothing about theatre, and didn't know that there were other careers you could have within the field – including stage managers and designers. However, acting came naturally to her. For example, if she had to pretend to be a police officer, she would just do it and didn't have a problem because of her vast imagination. She said the theatre program really helped her expand her talent as an actress and "own the craft."
"You can't just paint acting with a color," Catia said. "Which is probably what I used to do." The program helped her recognize the need to "carve things out," be specific in her actions, be honest and emphasize while acting.
Catia has a concentrate in acting, but if she had more time, she would have loved to go into directing. Although she is a senior, she will be at URI for another semester and hopes to keep herself busy. She explained that "if you can't find work, you make work." Right now, she's currently writing and directing a one-act play that will be showcased in May. Eventually, she hopes to move to Los Angeles, California and get into the film industry.
Although not everyone appreciates art, Catia encourages students to go to plays and art museums and immerse themselves in the culture around us.
"Art reflects life and it tells the stories and emotions we feel in life," Catia said. "Try and immerse yourself in every aspect [of life] there is. Not just arts, you have to learn about the world too. You should be educated and understand the world you live in, but the more you integrate yourself into the community of art, the bigger your world will become and the better you will be for it."
Catia currently holds a role in URI Theatre's spring production, "The School of Lies." The show will run on March 2 through 4, at 7:30 p.m., and March 5, at 3 p.m. at the J Studio in the Fine Arts Center. Tickets are $20 for the general public and $15 for seniors, URI faculty/staff and students. For more information, visit web.uri.edu/theatre/.