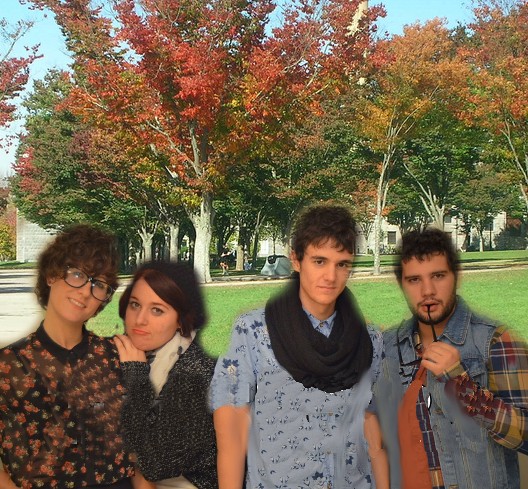 "The hipsters are coming!" students screamed through the halls of various dorms last night. Flowers covered the Quad, The Beatles were playing softly in the background and the slight smell of marijuana was in the air.
Peace and Love Club (PLC) has emerged as the latest organization to grace the University of Rhode Island. However, the club has been stirring up some controversy on campus. Esther Little, president of Equality Ends Now (EEN), explained how PLC is ruining the current status of the University.
"We don't want these dirty hippies coming in and taking over our turf," Little said. "Right now, we're in a fairly non-diverse place. There's this sort-of dark cloud surrounding campus and I'd like to keep it that way."
Little said that their happiness and easy-going attitudes are what irks her the most. Instead of trying to spread positivity, she thinks everyone should be as unhappy as she is. Another general member of the club, Helen Drought, would also like to see an end to PLC.
"They're like a drug," Drought said. "Once people start seeing what they're preaching about, they'll get wrapped into their ways and be addicted to 'good vibes.' Who needs those?"
On the other hand, president of PLC Violet Sky explained that herself and other members of the club are just trying to live their lives normally and are not hurting anyone in the process. She said she doesn't understand why others are so against their beliefs.
"Honestly, we're all about spreading the love, you know man?" Sky said. "This school needs to chill a bit – in whatever way that works for them. For me, I just want to sit on the grass and smoke a little, listen to some tunes and have a good conversation. Forget that government stuff."
Sky's original intention of the club was to promote 'peace and love,' but now the organization is really just a group of friends. She wouldn't categorize them as a "cult" in any sense of the word, but said that's what EEN might be.
Since their formation just a few months ago, the club has already gained over 2,000 members. They haven't hosted any events, but Sky hopes to hold a meet-and-greet of sorts, since not everyone has met yet.
PLC club member Evan Moonshine is upset about EEN's words, claiming "this school needs love, not war." Moonshine would like to see the URI community come together, rather than it be a jumbled mess of the conservatives versus hippies.
"You know what [EEN] needs?" Sky asked, laughing. "They just need a good hit. Might show 'em how to relax a little and rethink their priorities. That's all we're doing here."
PLC meets typically every day around high noon on the quad. Sky encourages everyone to come and 'don't worry, be happy.'