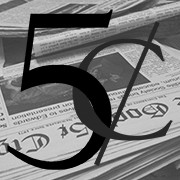 The University of Rhode Island Roosevelt Hall's renovation project was supposed to be completed by the fall 2016. However, anyone who has walked past that building knows that the project is almost a full semester behind. According to some of the construction workers, this is because there has been a ghost haunting the construction site.
"It's really weird and kind of freaky," said John Smith, a construction worker who has been with the renovation project since the beginning. "You'll leave a piece of equipment somewhere and when you look back it's a few feet away from where you had put it down." Smith added that this haunting makes the whole crew feel like there is another person working on the project with them.
"I remember one day I misplaced my hammer and when I went looking for it, I found a guy in a white sheet using it to pry off some of the shingles," Smith said. "It threw me off, seeing the hammer move by itself. Well, not by itself because there was the guy in the sheet. Either way, it scared the living daylights out of me."
Other workers have reported seeing the same figure draped in a sheet walking around the site. They said the figure is about six feet tall and that the eye holes in the sheet give them a view of human eyes. Joe Snow, another construction worker on the project, said the eyes make it seem like there is a real human under the sheet.
"It has scared a lot of our guys off the job," said Snow. "The realness of this ghost, the moving of our equipment and just the building itself was too much for them to handle. I'm not afraid of no ghost, so to me this is just a road bump."
Roosevelt Hall houses a lot of administration, many of whom said they have had encounters with the ghost prior to the construction.
"I've seen him running around before, yelling 'whoo'," said Jane Doe, a receptionist. "He just runs by with his sheet in the wind, it's eerie. I had a feeling the construction would disrupt him, this is the most active he has ever been."
With the project going well over schedule, the University is finally stepping in to do something about it. They are contracting Mystery Incorporated, a successful ghost investigating team, to come debunk the Roosevelt haunting. Leader of Mystery Inc. Fred Jones said that they are ready to help.
"I have no doubts that we can't handle this," said Jones. "We've seen many cases like this before so hopefully it won't take too long."
Mystery Incorporated is set to come to the University within the next few days and try to uncover the ghost so that the renovation can be completed soon.