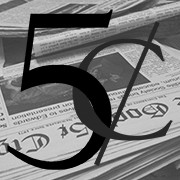 The University of Rhode Island is undoubtedly a beautiful place, but it has been revealed that there is a duplicate campus the school uses to stage photo-ops and tours for VIP guests.
A college campus is an ever-changing place. With over 16,000 students, many things can happen that the administration of the school has no control over. Wanting to make a place that they have complete control over to show to prospective families, the university created an alternative URI campus identical to the main one.
"We've had the alternative campus for decades," admitted URI President David Dooley. "It's been an easy way to control what is going on and to make the campus as appealing to prospective students as possible."
The alternative URI campus is identical to the main campus, down to the placement of trees, benches, trash cans and even the writing on the bricks in the quadrangle. The only difference is that most of the buildings are just shells, only fully furnished and finished if the tour takes groups through a building. The alternative campus even has a similar entrance so people coming in after touring won't suspect a thing.
Even all the construction work had to be replicated at the alternative campus.
"We couldn't say we were building and not show construction," Dooley said. Though the construction at the alternative campus is a lot cheaper considering the school only builds shells of a building unless they needed a tour to go through it.
A lot of thought had to go into the running of an alternative tour campus. They had to be exact with their placement of things so that alumni who are bringing their kids on tours wouldn't suspect a thing. On top of that, they had to run tours at the real campus so that students wouldn't start to think something was wrong in not seeing tour groups. So the university hired paid actors to come and take tours.
"We didn't want students to know there was an alternative campus in fear they'd go ruin our perfect tour," Dooley explained. "So we had to play it on both sides. Hired actors as people touring here and hired actors as students at the alternative campus. The tour guides on this campus didn't even know about the actor thing. It was well under wraps."
With the alternative campus now known, Dooley said the university is not sure where it will go from in regarding tours and the backlash that has ensued.
"We are currently trying to do damage control," he said. "We have angry parents and angry students. We want to make sure everyone can think with a level head."
One thing that people are so angry about is the fact that tuition money went into building this alternative campus.
"I did not know almost 20 percent of my daughter's tuition was going towards building a fake campus," said one parent. "That's just ridiculous. The money should've been used for something else and not the payment of actors and fake buildings."
Dooley declined to comment on how much money has gone into the alternative campus, however, an inside source from URI Communications reveals the number is close to $300 million.
It is unknown what will happen with the alternative campus at this time. There are rumors it may sit for a long time before the university can use it again.
"It was such an amazing idea and worked like a charm," Dooley said. "I have a feeling we will probably make another one once everything has blown over."