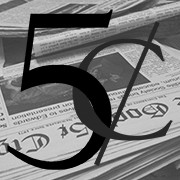 On March 23rd, the University of Rhode Island Faculty Senate voted to approve a rebuild of the Fine Arts building on campus backed by a large majority of students from various departments.
The Fine Arts Center has gone under two previous rebuilds, the first being in 1966 and the second being in 1971. Many students have complained at great lengths to faculty and administrators over the state of their 46-year-old building.
"The building is literally falling apart," says Junior Theatre Major Jeremy Famiglio. "There are various instances where the building is just incomplete. The building turns students and visitors away from attending events held in it."
For many years students have tried to pressure the University to construct a new building. Last year there was a petition started by a group of students campaigning for a new Fine Arts Center before a new engineering building, which URI received bonds to construct from a state ballot last November.
"I want the University to finally do something," says Art Major Barry Fische. "I spend a lot of money here and yet I have a barely functional building. I mean it's hard to be creative when you are in a building that looks like a Turkish prison."
Well the University finally listened to its students and voted to approve a redesign of the entire building. Construction is slated to begin next month.
"We have been listening to the concerns of students for a long time," says Civil Engineering Professor Benn Goldwater, actively involved in the committee which sponsored the bill. "And I think we finally found a solution everyone will be happy with."
Facilities Services Director Jerome Sidio will run the construction efforts.
"We vow to build a new building, but only one condition," says Sidio. "The students need to get off their computers and construct it themselves." Sidio began to explain the bill calls for volunteer students to dedicate their time to constructing a new building.
"Look if they want a new building, then build it yourself," says Sidio. "I sure won't stop you." Sidio further explained that Facilities Services will provide construction materials outside the Fine Arts Center for students to use.
Facilities Services hopes that this will not only make URI students more active, but bring students together to learn construction techniques and to build something they will finally be proud of.
"Students didn't like our original concept," Sidio said. "So let's see if they can build something better."