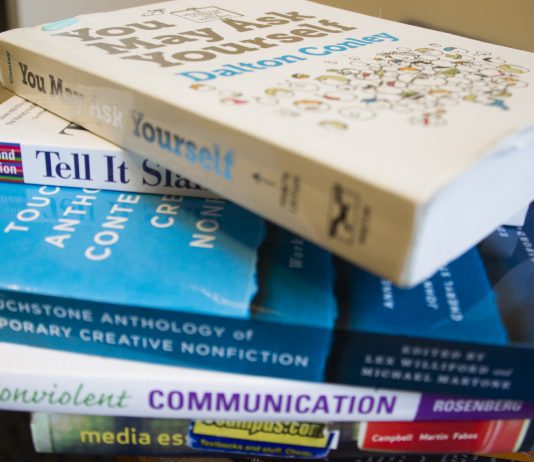 Photo by Autumn Walter |CIGAR| The University of Rhode Island has several 100-level courses that many students take where instructors are required by the department to assign the same textbook or textbooks to all sections of the class.   In these introductory level classes, there are typically either large lectures or...
A powerful Nor'Easter brought strong winds and heavy rain to much of the Southern New England region on Friday, March 2. The storm resulted in widespread power outages across Rhode Island and Massachusetts, with parts of coastal Massachusetts experiencing damaging flooding as well. Several towns in New York received...
The armed school resource deputy at Marjory Stoneman Douglas High School resigned last week after it was discovered that he never entered the building while the shooting happened. Broward County Sheriff Scott Israel said that Deputy Scot Peterson waited outside the building, but never went in to attempt to...
President Donald Trump said Tuesday that he has directed Attorney General Jeff Sessions to propose changes that would ban bump stocks on guns. Earlier in the day, Press Secretary Sarah Sanders said Trump had ordered the Justice Department and the Bureau of Alcohol, Tobacco, and Firearms to review bump...
A school shooting at a Florida high school has left 17 dead and an additional 16 injured. The shooting occurred in Parkland, Florida at Marjory Stoneman Douglas High School. According to CNN, both students and teachers are among those killed. The school has an estimated enrollment of 3,100 students. The suspect, 19-year-old Nikolas...
An Amtrak train crash in South Carolina on Sunday morning killed two people and injured over 100 others. The crash also resulted in "thousands of gallons of fuel" being spilled. The crash occurred when a train traveling from New York to Miami collided with a freight train. The train...
News You Should Know Andrew McCabe, director of the Federal Bureau of Investigation, stepped down Monday amid tensions with the White House. McCabe was being pressured by President Donald Trump to resign. McCabe has been a part of the FBI since 1996. McCabe has been criticized by Trump after...
This week's top story CVS has agreed to buy Aetna Insurance company for $69 billion. CVS, which is one of the most popular drugstores in the country, announced the deal Sunday. Aetna, which is based in Hartford, Connecticut, is one of the largest health insurers in the country. The deal...
News You Should Know: A terrorist attack on a Sufi mosque in Egypt on Friday has left over 300 dead and more than 120 wounded. The attack occurred in Bir al-Abed, which is 125 miles northeast of Egypt's capital, Cairo. The attack is one of the deadliest attacks in Egypt's...
Many Republicans in Congress are calling for Roy Moore, a candidate for Senate in Alabama, to drop out of the race after multiple women have accused him of sexual misconduct. Moore, 70, has been accused of sexual misconduct by five women. Leigh Corfman alleges that in 1979, when she was...