"Firstly, on the default of New York City, let me be clear, as president I will change my mind wherever I want," said Chevy Chase, doing a self-proclaimed, bad impression of Gerald Ford in the first ever season of "Saturday Night Live," in 1975. This was the first of...
On Dec. 4, "The Mavericks" played at The Strand Ballroom, a music venue in Providence, Rhode Island, to promote their newest album, "Hey! Merry Christmas." "It was a business move sure," Lead Guitarist Eddie Perez said. "But it's also really fun." He also said that the idea for this...
On Nov. 14 in the library, the New MakerSpace hosted a workshop focusing on the necessary skills required to make a podcast. Lena Bohman, a Makerspace Facilitator who graduated from Brown last May, hosted the workshop. Bohman decided not to focus on the skill of interviewing. "URI students don't...
University of Rhode Island student filmmakers now have a place to pool their resources together and network once again due to the revival of Film Collab. Film Collab was revived by Sunny Davis, senior film media and writing and rhetoric double major. The club has existed on campus for...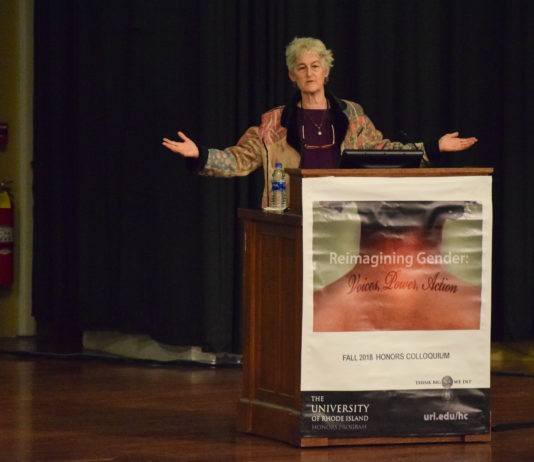 Photo by Anna Meassick | Nancy Folbre opens the night saying she knows she is in the right place due to our "think big" attitude. On Oct. 23, Nancy Folbre spoke at the annual Honors Colloquium in Edwards Hall with a presentation entitled, "The Rise and Decline of Patriarchal Systems." Folbre...
Podcasts: These days it seems like everyone either has one or listens to them. They range in topics from talking about good movies, bad movies, politics all the way to good old fashioned absurd humor. But why? Why, all of a sudden, are podcasts such a huge part of...
Damien Chazelle's film, "First Man" is first and foremost, a claustrophobic film. The epicness of the story told, the United States race to land on the moon, is contrasted sharply by reliance on closeup shots and small confined shooting locations. For example, take the opening scene in which Neil...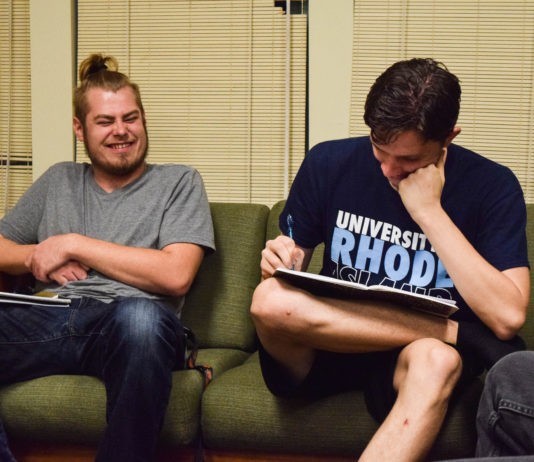 Photo by Anna Meassick | Senior Nate Meneffee (left) cracks a joke, while Freshman Finlee Burge records the set-up and delivery to be used at open mic night. After attending First Night in September, University of Rhode Island freshman Ron Melamed noticed there was still one missing from over the...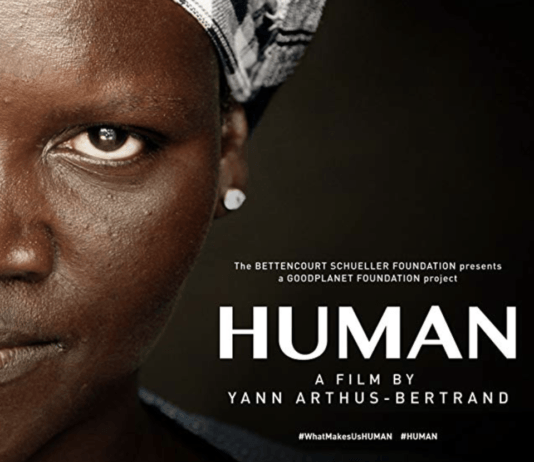 Photo courtesy of IMDb On Sept. 28th, "Human," a documentary by filmmaker Yann Arthus-Bertrand was screened in Edwards Auditorium to a crowd of over 100 students, faculty and off-campus visitors. The film, released in 2015, took three years, 2000 interviews from 60 different countries to make, and was first premiered...
Jennifer Finney Boylan, a professor at the Barnard College of Columbia University, discussed transgender identity at this year's Honors Colloquium on Oct. 2. Her speech, while also part of the colloquium titled "Reimagining Gender: Voices, Power, Action," was a joint effort with the University of Rhode Island's Gender...