Former University of Rhode Island Talent Development alumna, Rhonda Price, started a nonprofit called Man Up, Inc. where she helps men of color and men from disadvantaged backgrounds find their place in the workforce. Price graduated from URI in 1984 with a degree in psychology. Afterward, she spent nearly...
Dec. 3, 1997 Headline: Art interns to raise AIDS awareness through banner in Union Fine Arts Center interns at URI developed a banner to hang in the Memorial Union in support of AIDS Awareness Week. The painted banner displayed personal narratives about the disease such as, "I had AIDS...
First-year communications professor Lori Merolla had a long career in the private sector as Vice President of Communications at Fidelity Investments before she transitioned into teaching at the University of Rhode Island. Merolla received her Bachelor's Degree in Speech Communications from URI in 1983 and a Master's Degree in...
Photo by Anna Meassick | BRU RI offers delicious coffee, doughnuts, and a quiet space for students to study. The newly opened Bru RI Coffee Bar located on Fortin Road offers a bar-like atmosphere with a coffee-shop-style menu for University of Rhode Island students and community members to enjoy. Bru...
Thursday, Dec. 4, 1980 Headline: URI lifts suspension on non-immunized women Twenty-six female students ignored the law that required them to receive an immunization that would prevent contractions of German Measles. The University stated that they would not pursue the females still unvaccinated. Assistant Vice President for Academic Affairs...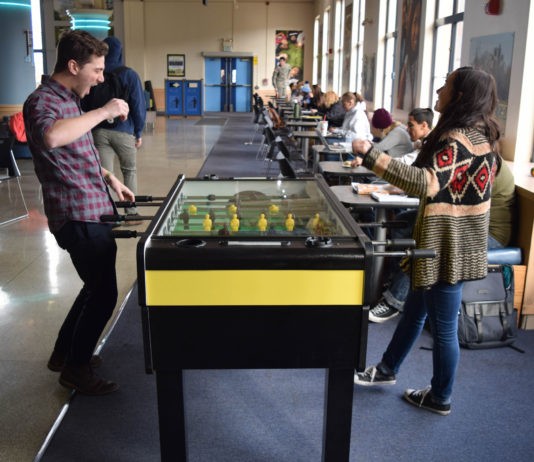 Photo by Anna Meassick | Gabby Jeronimo and David Hussong face off in an intense game of foosball in the Ram's Den. This semester, the Ram's Den at the University of Rhode Island is offering an assortment of free table and arcade games to increase its popularity amongst students. These...
The Office of International Education at the University of Rhode Island recently announced its list of summer 2019 faculty-led study abroad opportunities for students. The programs allow students to earn credits towards their URI or university degree while studying abroad. The programs are open to almost anyone; you don't have...
Thursday, Nov. 14, 1996 Headline: Student Senate votes to censure, not impeach Twenty-two years ago this week, the URI Student Senate took action against Senator Scott Sanborn for leaking confidential information from a closed session. In censuring Sanborn, the Senate publicly disapproved of his actions and unethical behavior but did...
Thursday, November 5, 1992 Headline: Clinton big winner in R.I., Bush finishes just ahead of Perot Bill Clinton clinched a victory in the traditionally Democratic Rhode Island. Incumbent President George H.W. Bush running for re-election came in second in Rhode Island, just ahead of the independent candidate Ross...
Photo by Greg Clark | Reusable water bottles were given barcodes for students to scan and earn discounts at the school store. Last April, a new program was launched on campus that encourages students to refill reusable water bottles and scan each refill with the Fill it Forward mobile app....