To be honest, the recent trend of remaking older animated films seems to me like a money-making scheme more than anything else. "Star Wars" has a million new movies, most of which are honestly not that good, there's a prequel to everything, and some of the remakes are just...
Photo by Anna Meassick Thursday, Nov. 1 At 9:34 a.m., the burglar alarm went off in the library. It was determined to be a false alarm. At 1:35 p.m., a motor vehicle accident was reported at the lower fine arts north lot on Flagg road. A report was filed. Friday, Nov....
Yesterday's Student Senate meeting had a public forum from a climate change lobbyist, voted on critical bills, and a number of nominations and elections for empty seats. Sharon Gold, a lobbyist for the grassroots Citizens' Climate Lobby, spoke to the Student Senate about getting the University involved in their...
The last ten days or so have seen the University of Rhode Island Kingston campus more political than usual, playing host to a gubernatorial debate on Monday the 15th and a senatorial debate on Saturday the 20th. I had the privilege to help cover both of them, and as...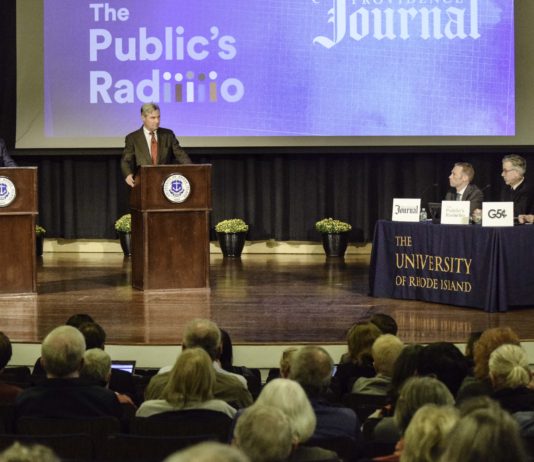 Photo by Anna Meassick | A large crowd gathered on Oct. 20 to hear from Robert Flanders and Sheldon Whitehouse who are running for a spot in Senate. United States Senate candidates for the state of Rhode Island sparred over issues including health care, immigration, climate change and President Donald...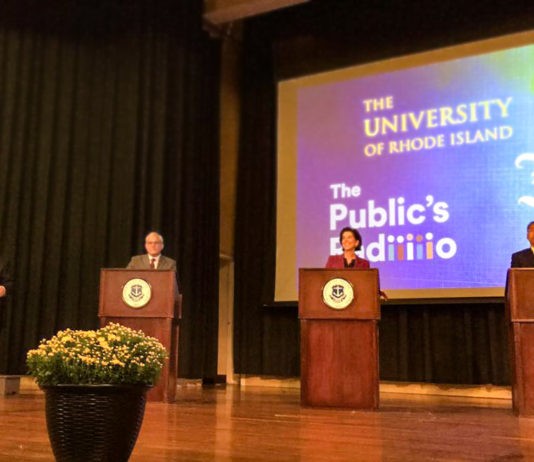 Article by Laura Weick and Mary Lind Photo by Laura Weick | (Left to right) Joe Trillo, William Gilbert, Gov. Gina Raimondo and Mayor Allan Fung. The University of Rhode Island, the Providence Journal and the Public's Radio hosted the Rhode Island gubernatorial debate on Monday evening in Edwards Auditorium. Democratic Governor...
Photo by Anna Meassick Thursday, Sept. 27 At 11:21 a.m., fraud was reported at Quinn Hall. A report was filed. At 1:20 p.m., a well-being check was done at the Fine Arts Center. A report was filed. Friday, Sept. 28 At 4:49 p.m., the burglar alarm at White Hall went off. The building was...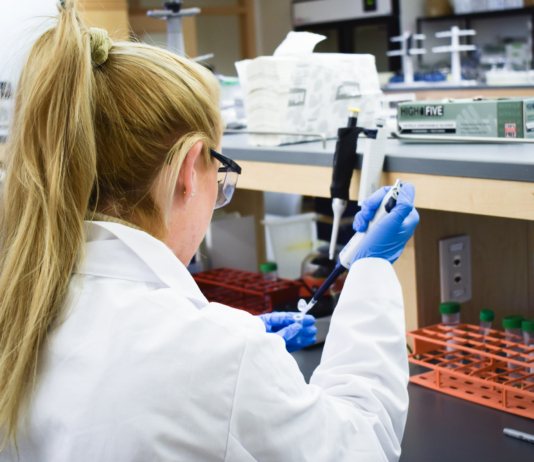 Photo by Stephanie Erickson | The new grant will allow faculty and staff to conduct more research projects. The University of Rhode Island's College of Pharmacy saw a great increase in federal funding during 2017 when nearly $12 million was obtained in research grants. The College of Pharmacy is currently no....
Local News- The North Smithfield Town Council voted unanimously to repeal the resolution that asked town departments to no longer purchase Nike gear following their release of an advertisement featuring Colin Kaepernick. John Beauregard, the council's president and a former state trooper, said that he has not changed his opinion...
On Tuesday, Sept. 25, the University of Rhode Island will kick off the first event of the 2018 Honors Colloquium. This year's theme "Reimagining Gender: Voices, Power, Action," will host a variety of speakers as well as an art exhibit and theater production. There has been a process leading...