The University of Rhode Island women's tennis hosted Army at the URI Tennis Complex in what was the last home match for seniors Ariel Haber and Nicole Legler. Army went on to win the match 5-2. Army started the match with a...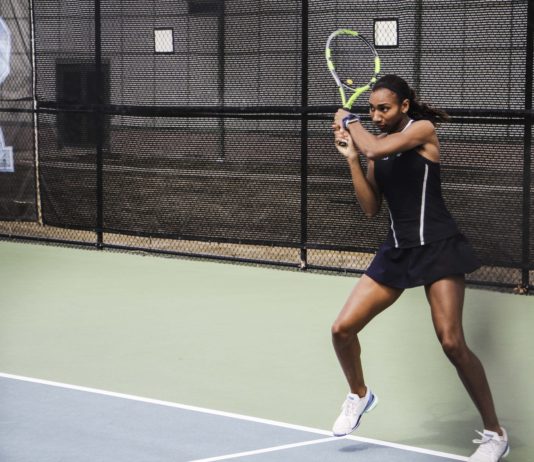 Freshman Erin Chratian gets ready after delivering her forehand hit. |Photo by Greg Clark The University of Rhode Island tennis team split this past weekend's match schedule, winning their match against Saint Joseph's University 5-2, but losing 4-0 against George Washington. These matches give...
The University of Rhode Island women's tennis team took care of business last week against Sacred Heart University (SHU), winning eight of nine matches. It was all URI as the Rams beat the Pioneers in all but one match being at first doubles. The...
This past weekend, the University of Rhode Island women's tennis team went one and one as they played away at both Davidson and Wofford. In what was the first time playing outside since October for the Rams. Rhode Island lost 2-5 to Davidson making...
Rhode Island Women's Tennis was all business last Wednesday night as they earned their first win of the spring campaign with a victory at every match except two against the Providence College Friars at Centre Court Tennis Club. URI quickly picked up two...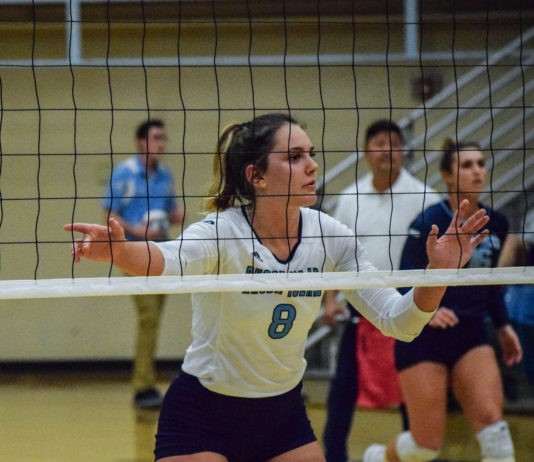 Photo by Autumn Walter | Seniors Lauren Pick and Olivia Budinich named Cigar Sports MVP. This year the University of Rhode Island women's volleyball Cigar sports MVPs are seniors Olivia Budinich and Lauren Pick. Since Budinich's position requires her to be on the court just about every play of the game...
On Friday, Nov. 9, the Rhode Island men's hockey team traveled down south to the Fred Rust Arena to take on the University of Delaware men's hockey team for a two-game series. It took almost half of the first period, just over the eleven-minute mark, for URI to get on...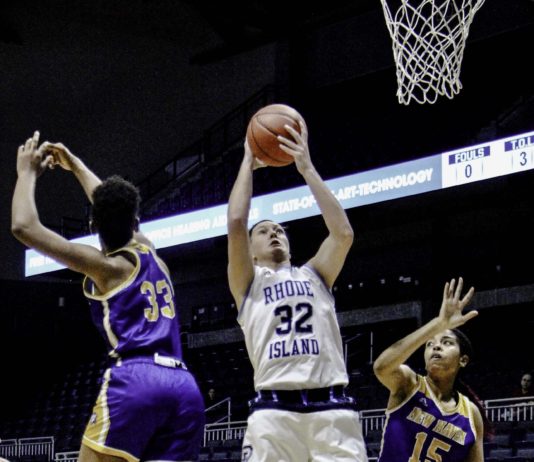 Photo by Greg Clark | Nicole Jorgensen goes up for a layup. It started off slow for the University of Rhode Island Women's Basketball team this past Sunday as they took on the University of New Haven Chargers in a preseason exhibition and what would turn into a 66-61 win...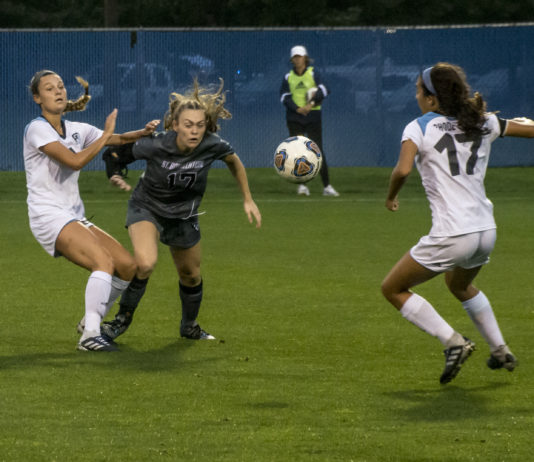 Autumn Walter | Stock photo from URI vs St. Bonaventure; Women's soccer has yet to win a game this season. The Rams faced off against the Saint Joseph Hawks, Virginia Commonwealth University Rams and George Mason to complete their home stretch and the remaining away game of the season. URI faced...
This past Friday the University of Rhode Island women's volleyball team traveled to George Washington University for an Atlantic-10 battle. The Rams lost in three sets and dropped to 1-3 in the Atlantic 10 Conference after playing George Washington. In the first set, the Rams and the Colonials...