Nolan Reilly is a sophomore Journalism major from Northbridge, Massachusetts. He started writing for the Cigar during his freshman year. He is also involved in WRIU and loves Boston sports. Email: nolan_reilly@my.uri.edu Twitter: Nmreilly15
1. Davidson Kellan Grady and Jon Axel Gudmundsson are the metaphorical engines that keep the Wildcats going. They served as a two-headed monster against the University of North Carolina Wilmington this past Saturday, each scoring 25 points apiece. Gudmundsson played the entire forty minutes, with Grady playing 39 minutes. 2. Saint...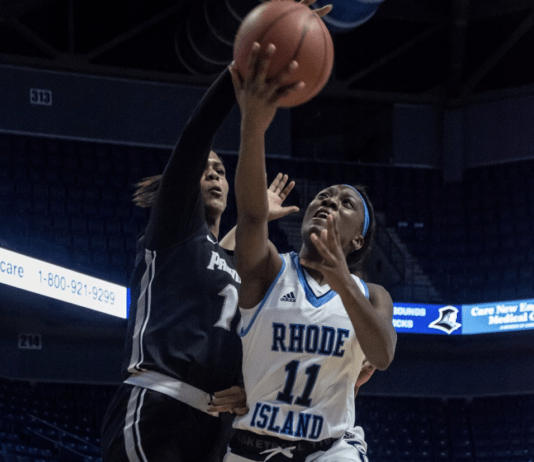 Photo by Autumn Walter | Davida Dale makes a lay-up. For the first time since 2013, the Rhode Island women's basketball team has an Atlantic 10 player of the week. For her performance against North Dakota, then Providence and Brown in the Ocean State Tip-Off, redshirt junior Davida Dale...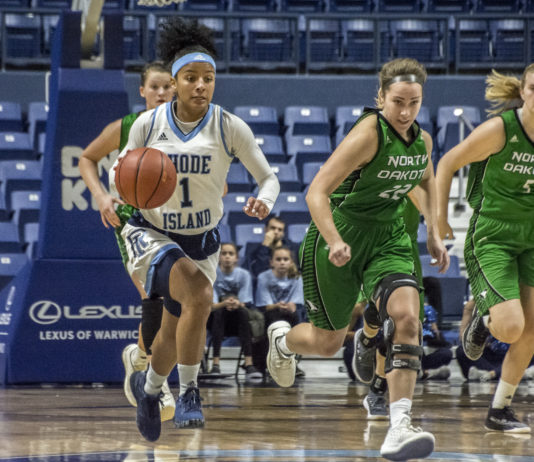 Photo by Autumn Walter | Elemy Colome scored 20 points for URI against North Dakota. "We finally figured out how to win a beautiful basketball game, and I hope we remember how good that feels." This is the sentiment being echoed by Rhode Island Women's basketball coach Daynia La-Force following...
1. Davidson The Wildcats are atop the conference so far this year, with a record of 5-1. The only loss of the year for Head Coach Bob Mckillop's crew is against a very good Purdue team, ranked 24th in the country. Davidson has seen great performances so far from Jon...
Welcome back for the final installment of the weekly Colonial Athletic Association Football Pick-Em. Last week I hit on four of my six picks, which brought my win/loss total on the year to .500, at 17-17. Let's take a look at this week's matchups. In the first matchup of the...
Welcome to the first ever installment of a weekly Atlantic 10 basketball Power Rankings. With college basketball season just starting up now is as good a time as ever to look back at the first week of action in the Atlantic 10, and rank all 14 basketball programs accordingly....
Photo by Autumn Walter | Jajuan Lawson scrambles out of the pocket against Albany Great Danes. Head Football Coach Jim Fleming's postgame remarks could not have been more spot on following the Rams disappointing road loss to the Phoenix of Elon University, losing by a final score of 24-21. "We have...
Welcome back for the sixth installment on the year of my weekly Colonial Athletic Association Football Pick-Em. Last week was not exactly a banner week for me, only getting one prediction right out of the five games played last Saturday. This brings my yearly record to 13-15. Let's take...
Welcome back for the fifth installment of my weekly Colonial Athletic Association football pick-em. Last week I went 3-2 for the second straight week, which brought the yearly total to above .500 for the first time, with a 12-11 win-loss record. Let's get this bread. In the first matchup...
Be B.R.A.V.E.- that's the concept put in place by Head Coach Daynia La-Force to rebuild the lost continuity and culture of the University of Rhode Island women's basketball team. For Coach La-Force and the Rams, B.R.A.V.E. stands for behavior, relationships, attitude, value and environment. "It sets the framework for...