Sam Murray is a senior at the University of Rhode Island majoring in journalism and minoring in business. Hailing from the great town of North Andover, MA, Sam lives and breathes New England sports while maintaining a sharp and vigilant eye on today's important news around URI. Sam can also be heard on 90.3 WRIU talking about and broadcasting URI sports. You can reach Sam at samuel_murray@my.uri.edu or on Twitter @smurray1212.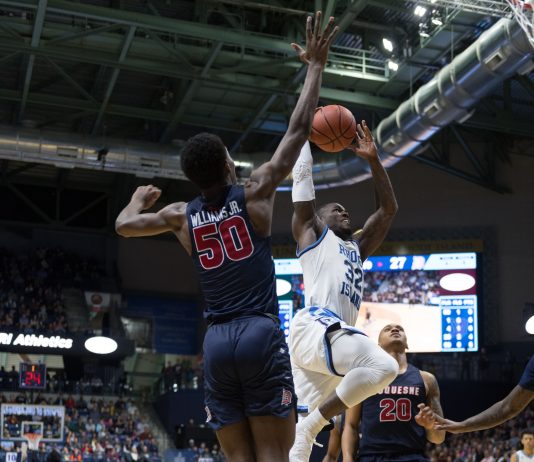 Men's basketball extends winning streak to 13 games Top: Jared Terrell soars to the baskest against Duquesne. Bottom: Rams "dog- pile" on Stan Robinson following his game-winning three as time expired on Saturday afternoon. Photos courtesy of Photo by Friday. The No. 22 University of Rhode Island men's basketball team recorded their...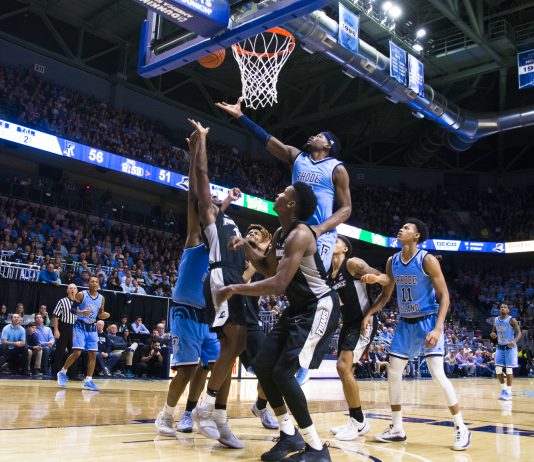 Dan Hurley and several Rhode Island players make their way toward the Rhody Ruckus after the buzzer sounds, with the fans surrounding and cheering for them. Hurley gives a salute to the crowd, showing his appreciation for the 7,959 fans that had their voices booming across the arena the...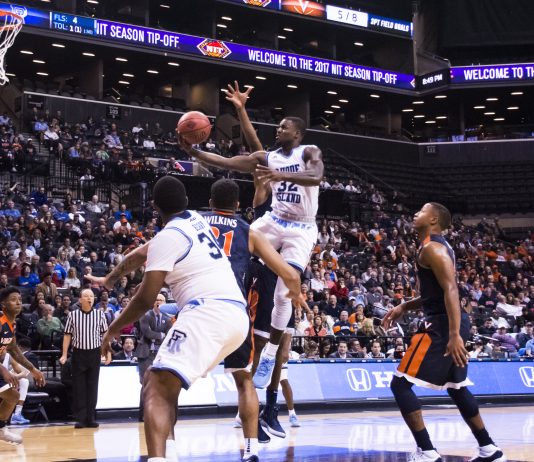 Jared Terrell is the Main Dish for URI Basketball Like a Thanksgiving turkey, Jared Terrell is the dish that ties the entire feast together, in this case being the centerpiece of URI's offense. Scoring 43 points throughout the tourney, including matching his jersey number with 32 points against Seton Hall,...
The University of Rhode Island men's basketball team packed their bags and headed to Reno, Nevada to battle the University of Nevada in a nonconference matchup on Monday night. The Rams fell to the Wolf Pack 88-81. Sam Murray breaks down the key takeaways from the contest. Defensively the...
With the men's basketball season starting up, Murray's Weekly Roundup has switched gears to Sam Murray's preview of the Rams non-conference schedule. It feels like the dust is still settling on what was the crown jewel for the University of Rhode Island athletics last year. With a roster that was...
It was a busy weekend for the University of Rhode Island athletic teams. Contributing sports writer Sam Murray has all the updates for you about this week. Contributing Sports Reporter Ian Weiner has you covered on how the Rams cross country teams finished at the Atlantic 10 Championships. Football The football...
Need a place to find out what happened for each team on the campus of the Univer- sity of Rhode Island? Murray's Weekly Roundup is a new feature to the Good 5 Cent Cigar's sports section, where each week contributing sports reporter Sam Murray updates and recaps what each team accomplished...