At noon on Saturday, longboarders began to assemble in the street and on the sidewalks in front of the Memorial Union. Tricks were being done and hills were being bombed. They were preparing to compete in a race- the University of Rhode Island Poker Push Race.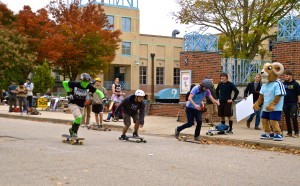 The race was broken into four-person heats with the unique objective of crossing the finish line holding the best poker hand possible, composed of poker cards gathered along the way from start to finish. Speed did not matter. Expert and beginner boarders alike all had the chance to come out on top, relying on the luck of the draw to seal their victory.
Racers registered for the races one by one at the same table where the prizes were set. Skateboarding merchandise covered the table from end to end as banners of sponsors hung from the sides. Skateboards new and old, high-tech protective gear, stylish graphic t-shirts, dinosaur stickers and much more lined the table. The first place winner was awarded a brand-new long board and the other prizes were won by raffle.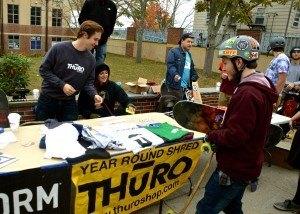 Nate Daignault hosted the event while working with the URI Mentor Tutor Internship program along with the help of sponsor Landyachtz. All the proceeds collected from the raffle tickets and the race's entry fee went toward helping the URI Mentor Tutor Program purchase summer reading books for the Asa Messer Elementary School in Providence.
The first ever URI Poker Push Race was successful and help was offered to those in need while doing so. Daignault said the race was the first ever sponsored skateboarding event on campus.