Students concerned about parking around campus: the University of Rhode Island has heard your woes. Starting this semester, URI will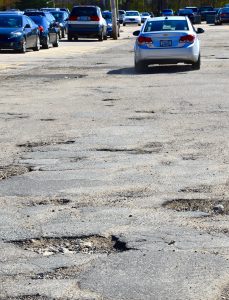 work with a firm to compose a 10-year plan to evaluate parking and transportation services around the Kingston campus.
"This is something that's definitely needed," Director of Public Safety Stephen Baker said. He estimates the last time URI has done an evaluation like this was in 2001, "and a lot has changed since then."
Some of Baker's concerns that brought the firm to URI were pedestrian safety and the amount of vehicle traffic in and around campus. Other university departmental concerns involve parking infrastructure, lands and grounds development, and future planning around campus and the effects they will have on parking and transportation.
Vanasse Hangen Brustlin Incorporated, or VHB, is a national team of engineers and designers regionally located in Providence. URI has worked with them in the past on other construction projects. This time, the group will evaluate the campus's current capacities, future parking needs, and alternate transportation options to and from campus.
The group will look at URI's current campus and analyze the impact that future buildings could have on campus parking. They will look at a number of factors including how many people are driving to campus, how many students have cars, overall traffic problems, as well as the current fees associated with parking.
With future projects like the new engineering complex and the White Horn Brook dorm construction, this evaluation should help examine theses project's impacts and the campus-wide needs created from them. The White Horn Brook project will remove 280 parking spaces, a pressing concern for a university strapped for parking.
"We have to think about what we want the campus to look like in 10 years," Baker said. "As soon as buildings go up, we lose parking."
He added that the evaluation will determine if URI is more of a commuter school or a resident school and what that means for parking and shuttle services.
Some of the ideas being considered include: adding a parking garage to the campus as well as off-site parking with shuttle transportation. Baker said that adding a rail spur that connects campus to the Massachusetts Bay Transportation Authority is also a possibility, as well as expanding a connection to the South County bike trail. There are talks of adding more shuttles between Narragansett and URI, as well as switching to an internal shuttle system where the University employs student drivers. While these ideas are still just speculation, these are potential long term solutions.
Baker plans to work with the Communications department to send out a survey that will aid VHB in their evaluation. He hopes that students will get involved and voice their opinions honestly. Surveying will start at the end of the month and go throughout the semester. He hopes to have the finished product by April 2017.
"The physical changes may take longer to go into effect," Baker said. "But this is a good place to start."