Natile Chasten and Rosetint play their last concert at 193 coffeehouse. PHOTO CREDIT: Lauren Drapeau | Contributing Reporter
When you're in the 193 Coffeehouse, your initial reaction to the statement, "You might get moshed," is to shrug it off in disbelief with a simple, "No I won't."
Yes, actually, you will.
Officially formed in February, Rosetint made their debut as a band and began the show with their set. Previously, Rosetint began with the Musician's Guild club to jam out and practice together. Now, after being together officially for about two months, they were able to showcase their talent for the student population at 193.
They kicked it off with two original pieces written by band member Ryan Baudisch, a first-year here at University of Rhode Island. The crowd, packing the coffeehouse from wall to wall, reciprocated their high energy and began bouncing along to Eli Lauzon Ardito's charging drumline.
After performing a Joyce Manor cover, they performed another original song written by Victor Paulino, another first-year in their band. Second-year Jack Cox also had an original song that the band performed, called "Our History."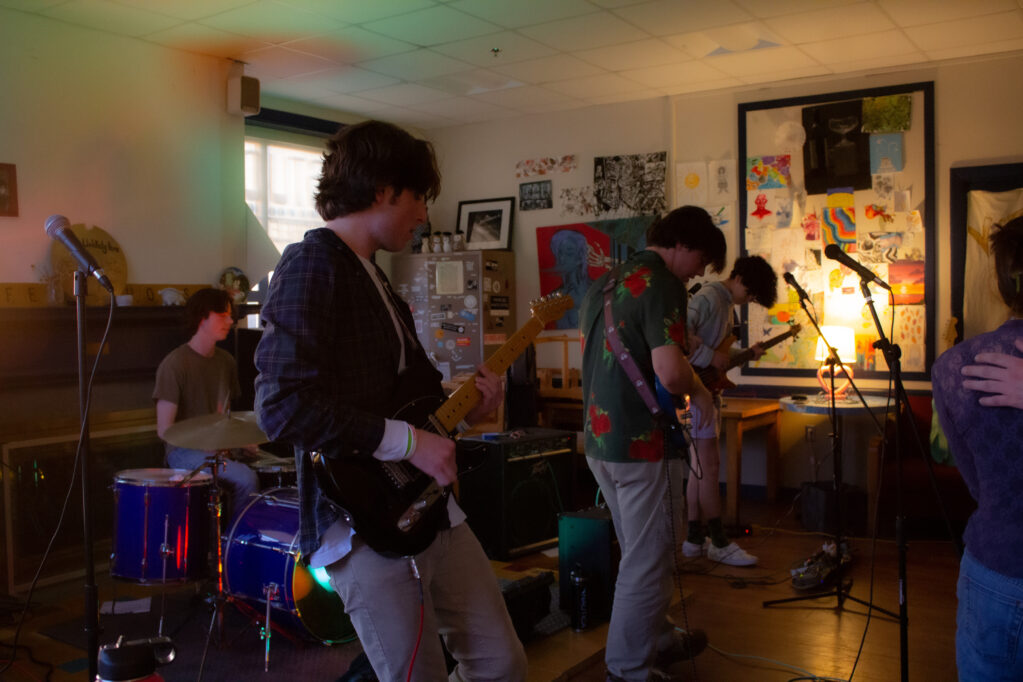 After the sound of their guitars and drums echoed through Memorial Union, they decided to finish the set with an energetic "Good For You" cover by Olivia Rodrigo. Every person in the coffeehouse was singing along and bouncing to the lively instrumentals. Their performance was energetic, highlighted with each member's electric personality. Ardito sat on the drumset, killing it with a constant smile throughout the setlist.
"Seeing all those people come to our first show was such a cool feeling," Cox said.
After a brief intermission, the room was transformed back into 193 Coffeehouse's cozy atmosphere and the audience was welcomed to sit and enjoy a performance by URI graduate, Natalie Chasten. She sang alongside Adam Brown as he played the electric guitar smoothly to complement her soft voice and the acoustic guitar melody.
Her nine-song set was greatly appreciated by the audience, swaying softly to the beautiful sounds. Brown sang with her for one of the songs, as their voices blended seamlessly. After a heavy moshing session during Rosetint's set, the audience was given the perfect opportunity to unwind.
Chasten sat with a very natural stage presence, her composure proving that she was meant to be there. Her voice elicited smiles across the crowd. As a former 193 Coffeehouse employee, the space welcomed her home with open arms to enjoy the performance.
"It's nice to come back in a different way," Chasten said.
After graduating in December, she reminisced on doing events at 193 as a student. As she finished her set, the audience erupted into a symphony of applause, thankful for her return to Memorial Union.
193 Coffeehouse did an amazing job at accompanying both, the performers and the audience, for the show. During the daytime, the space provides a cozy place for students to relax, study and meet with friends. At night, it was completely transformed with a 180º into an immersive space for creative live music to spread and infect an audience.
To see Rosetint or Natalie perform in person, information on future events can be found on their instagram pages: @rosetintri and @nataliechastenmusic.