At approximately 7:20 p.m. last night, a large tree fell outside of Adams Residence Hall and narrowly missed the building. The tree did not harm any students, but did cause minimal damage to the surrounding sidewalk, and another smaller tree.
Frank Pascale, University of Rhode Island police officer, was the first responder on the scene. Lieutenant Richard Moniz conducted a sweep of the area and concluded that there was no one under the tree when it fell. Â Â 
Arborists and facilities personnel arrived at the scene in less than an hour after the incident. Assistant Director of Landscape and Grounds, Sheleen Clarke, conferred with the arborists and decided it was safest to leave the tree until the morning. Adams Hall remained open throughout the removal process.
"They are cutting [about halfway up the tree] to clear the walkway," Clarke said last night. "We will fill the hole so it's safe for people to walk on, and wait to remove the rest of the tree until daylight."
Earlier this morning, the tree was safely removed. Arborists discovered a smaller maple tree was crushed under the larger tree, and was also removed.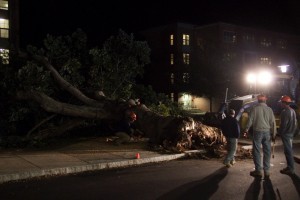 The arborists said that the tree had lost much of its root structure which caused it to collapse.
"The roots are severed where the asphalt is located," Clarke said. "The location [of the tree] wasn't good for its survivability, but trees do get old and die."
Arborist Jamie Jacob said that, even though the tree was old to begin with, it's been "dug around and asphalted" due to the surrounding construction and that this may have had something to do with the root deterioration. Another arborist, Scott Ahern, said that the asphalt "suffocated the root system."
Greg McManus, a freshman Adams Hall resident, said he was in his room and on the phone with his mom when the tree fell.
"There was a huge crack, and it was definitely loud," McManus said. "I didn't think to go check it out [at first]." Later on he went to go look and saw the tree was down. "It's crazy, I don't know how this could have happened."
While the tree was leaning against another tree in the area, Officer Pascale said it was "lucky this didn't happen on a Thursday night. It could have been very tragic."
Ahern estimates it should take a cost the University a couple thousand dollars to pay for the tree removal labor. He said that the Facilities department will most likely replace both trees in different locations near Adams Hall. Â