The Big Apple offered some media experience for myself and 47 University of Rhode Island Harrington Students yesterday afternoon–we were in the audience for a live taping of the Meredith Vieira show. Â 
Students were asked to wear bright, vibrant colors, and bring their outstanding personalities to give Vieira the best show possible.
As a journalism student, the experience was memorable. Our journey began at 7:30 a.m. as we traveled by bus through the rain to the city. We arrived in front of NBC Studios at about noon, and had the honor of being welcomed by NBCUniversal Vice President for Corporate Communications, Adam Freifeld.
Freifeld shared with us a little bit about himself and how he worked his way up to Vice President for such a renowned corporation. He also gave students a chance to ask him some questions about his careers.
One student asked what his biggest challenge has been throughout his career, and he responded by explaining that everyday there is a challenge. One of his day to day difficulties included getting clients for his own business, and having people respond to his emails.
His best advice to students was to get your foot in the door and don't settle for just one job in mind. Explore your options and see where they take you, he added.
Soon after, we received our VIP tickets to the show and were brought on up to where the magic happens. URI was placed in the first, second, and third rows from the set and we were given certain instructions as to where and how to sit.
This was eye-opening for me to see not only the prep that the talk-show host and her guests go through, but the prep we as audience members had to go through as well.
All hands were on deck in order to prepare us for what was going to happen on the show; we even had entertainment by a comedian who kept the audience engaged and energized throughout the many breaks in between takes.
I was surprised to realize that the audience members in a talk-show are actually right behind the cameras and all their equipment. So if you were in the front row you actually might not be able to see as well as you'd think.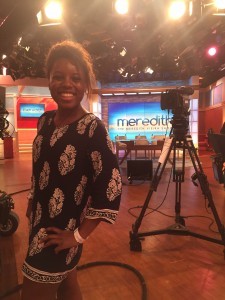 It also surprised me how synchronized everyone's movements were- watching the stage director move between the camera men during the segments and guide each cue was amazing. It showed me how swift all movements must be to get the job done while not allowing anyone to know what's happening while watching on TV.
While the cameras were rolling, we were asked not to look directly into them at any time. Another aspect of filming that interested me was how close the camera can get to your face to get an audience member's reaction shot. One of the camera operators explained that if the camera repeatedly lands back on your face, the producers like your reactions to what's happening on set. But, no matter how close the camera gets to your face, you must keep your eyes focused on the show.
This proved to be a challenge. I was truly nervous that I wouldn't look normal because I was trying to not act like there was a camera in my face, but as they say, that's show biz right?
During commercial breaks were some of the best parts of the show. The comedian had various games for audience members to participate in. One of the games was a rap battle, where each participant had to come up with a sentence that rhymed with the sentence the person came up with before them.
URI student Katherine Murphy, soon to be known as KMoney, took the prize of two free tickets to see the Rockettes at Radio City Music Hall and a picture frame that had "The Meredith Vieira Show" on the bottom of the frame. Â 
Other prizes included books and shoe risers, to make women's legs look better when they wear shoes, books, DVDs, CDs, and one woman walked away with a cooking tablet already loaded with recipes.
At the end of the taping, we were able to meet and talk with one of the show's executive producers. He gave us advice on how to break into TV, and said that the key to "making it big" all comes down to connections. He also told us what to do in an interview if we want to intern at NBC. He said it doesn't matter if you're a shy person, just be the biggest extrovert you've ever seen in the interview.
He explained that by doing this, it shows that you have drive and passion, and if you can get them talking about themselves that shows even greater, because they feel like they had an actual conversation.
His last piece of advice for student interns was to always be the first one to volunteer to help. By doing this, he said he'll remember your name, because you had the drive to get it done and hopefully, done well. He said that next time, when he has a task that needs to be done, he'll ask you because of your determination.
The Meredith Vieira Show was a rewarding experience for me and will be aired today at 4 p.m. on WLNE, and again on Mon., Dec. 28. A huge thank you to NBC Studios, Interim Director Adam Roth, and Professor Hollie Smith for giving us this opportunity.