The University of Rhode Island men's soccer team began a three-game home stand against Albany on Saturday, but lost a heartbreaker 1-0 for their second-straight loss.
It was a picture-perfect night for soccer when the Rams (3-3-1) took on the Great Danes (3-3-1) for an evening contest. URI was hoping to break their streak of one-goal games, but found itself locked in another slugfest. It was a defensive battle throughout its entirety.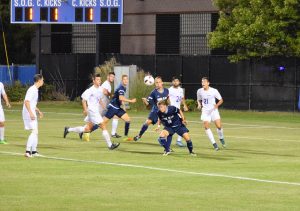 In the first half, the Great Danes had Rhode Island on the ropes totaling six shots while holding URI to only two. The story for the Rams in the first 45 minutes was missed opportunities. When they got the ball down the field in the first half, a couple of bad touches squandered any chance of scoring. The lack of offensive success placed a great deal of responsibility on the defense, who did not disappoint, holding Albany to a scoreless half.
Naturally, head coach Gareth Elliott's approach in the second half was to be more aggressive on the offensive end, thereby allowing them to control the pace of the game.
"We wanted to create a few more chances and get the ball down near the final third," Elliot said.
And that's just what they did, totaling five shots in the second half compared to just two in the first. The match, scoreless, would finally be broken open when a costly mistake broke the stalemate. Junior goalkeeper Chad Fox, who was in the midst of his first career start, misplayed a ball that gave Albany the eventual game-winning goal in the 75th minute.
Despite the goal, Elliott was impressed by the poise an inexperienced Fox displayed.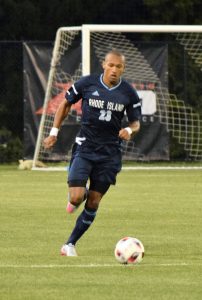 "Chad did good for us," Elliott said. "He played well all game, small mistake for the goal, but it's not a one-man team and we didn't perform well enough to get the results."
Fox had four saves in the defeat. Albany seemed to be a little more physical, totaling 15 fouls and one yellow card compared to the Rams' eight fouls. They also attacked the box more, tallying five shots on goal URI's two, both of which were courtesy of Freshman Peder Kristiansen and redshirt Sophomore Danny Apajee, respectively.
Overall, Elliott was not pleased with the way his offense played.
"Didn't create enough chances, need to be more decisive in the final third," Elliott said. "[We] need to move the ball quicker and start creating a few more opportunities moving forward."
The Rams fell to 3-3-1 on the year, while the Great Danes moved to 3-2-1. URI was in action last night against UConn and will take on the University of New Hampshire on Saturday.