Currently on display in the University of Rhode Island's Fine Arts Gallery is an installation called "Alignments" designed by URI's own Barbara Pagh, a professor of printmaking and two-dimensional studio at the university since 1983.
"Alignments" is the last in a trilogy of installations interpreting European megalithic sites and the others are titled "Stone Paper Circle" and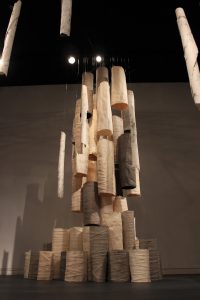 "Passages", which are based on sites in Scotland and Ireland, respectively. "Alignments" takes it's inspiration from the megalithic alignments that can be found near the French village of Carnac in the Brittany region.
The primary elements of the installation almost exclusively come from Pagh's own handmade paper. The exhibit also features large digital photographs printed on cotton.
According to Pagh, she's been drawn to the way the people of ancient cultures altered the landscape and created a uniquely new space.
"Since little remains to tell us about the people that built these sites, a lot can be left to interpretation and the interior installations I create alter the space and guide the viewer," Pagh said.
When asked what she wants viewers to gain from this exhibit, Pagh replied that she's hoping to provide a mysterious, foreign experience.
"I want people to have the sense of mystery when in an altered landscape such as the alignments in Brittany," Pagh said.
So far, Pagh says the exhibit has received a positive response from viewers who like the participatory nature of the installation and enjoy being able to wander down the rows.