The influence for freshman sociology major Kaylee Taylor's tattoo comes from the band Twenty One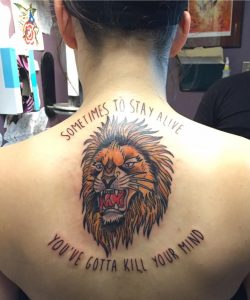 Pilots, specifically their song "Migraine." A verse in the song makes a reference to a lion attacking, and that overthinking the situation could lead to your demise. The
following line of the song reads "Sometimes to stay alive, you've got to kill your mind."
"I wanted a traditional American design for my lion," Taylor said. "And the font of the lyrics is actually the same as the cover of 'Paper Towns' by John Green."
Taylor considers fear and anxiety her own lion, and her tattoo reminds her to cut those things out of her mind in order to conquer them.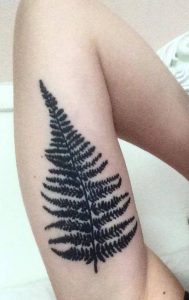 Freshman elementary education and Spanish double major Hannah Sorlein and her best friend Piper have matching tattoos drawn by Piper.
"We [were] wandering through the woods brainstorming tattoo ideas" Sorlein said. "We ended up laying down in a huge patch of ferns, and it just clicked."
The girls have a long distance friendship, and aren't able to see each other very often, so the tattoo means a lot to both of them.
"Though we both agreed it would be kind of cheesy, getting matching tattoos [was] really awesome," Sorlein said.
"Che Sara Sara" means "whatever will be, will be" in Italian.  This saying is freshman nursing major Kaitlin LaPlante's life motto.
"Honestly, when it comes to the creativity behind my tattoo, I found the flower on Pinterest and really liked it; my artist chose the font,"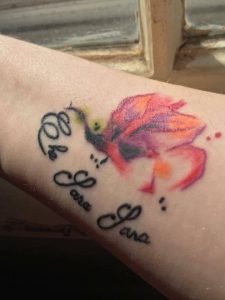 LaPlante said.
She tends to think about the future a bit too often and this, colorful work of art reminds her to stay calm and let fate run its course.
"I want to let my life flow, like the watercolor," LaPlante said.