Out of all the restaurants in the emporium, after my experience at International Pocket, or I-Pocket, it seems to be one of the most unique among them.
It has an interesting Mediterranean theme, and it's pretty apparent throughout. I-Pocket serves Greek or Mediterranean-style food, and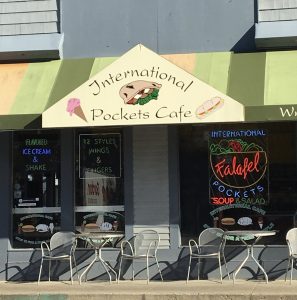 there is absolutely a commitment to theme, from the music playing to the orange-colored patterned tile on the wall. There's an extra seating area in the back of the building, which is uncommon for the emporium, but it seems to be an expansion into what could be the space of another small restaurant.
Upon entering, I stood well back from the counter toward the front glass, watching the lunch rush happen. I overheard people ordering "the usual," which is always reassuring to hear, of course. What was unusual, and struck me as unusually good service, was when the man behind the counter, who said his name was David, addressed me.
He gave me a free sample of chicken ("the best!" he said) and enthusiastically asked if I had ever been here before and if I knew what falafel was. I said no to both questions, and when he noticed the look of confusion and trepidation on my face at the word "falafel," he said, "Ok, no falafel for you! I have chicken Caesar, chicken pesto, and chicken buffalo." Happily, I agreed with him about the chicken; it was well-marinated, soft, and straight off the grill, so I went with the chicken pesto wrap and an order of fries.
The wrap itself was presented very well on the plate. The pita wrap looked homemade, and the cucumbers, lettuce, tomato, cheese, and chicken pesto were all visible and seemed very fresh. Overall, it tasted fantastic, and there was a noticeable level of attention to freshness and quality ingredients. The chicken was just as good here as it was right off the grill, and the pesto was just oily enough but not overpowering. That flavor was balanced out very well by the crisp and juicy tomato and cucumber. Even though I'm not usually a fan of the taste of tomatoes in general, they were especially fresh and they fit in here with the wrap perfectly. The pita wrap was also very thick, strong enough to keep the sandwich together without being flimsy, while also tasting quite good. The fries, however, were plain-looking steak fries which tasted quite bland, but they were a nice bonus for just a $1 up-charge, and they definitely took a backseat to the delicious wrap.
For those who are interested in sampling something more true to Mediterranean-style food, there are plenty of options available. They include tabbouleh and a selection of Mediterranean appetizers, like Falafel, Gyros (in dishes and in wraps), and Baklava desserts, among other choices. There is also a significant section of the menu which offers American style appetizers, salads, and subs, along with pasta and seafood dinners.
As for price, just as most other restaurants nearby, I-Pocket is quite affordable for a very substantial amount of food. My meal came in at under $10 without a drink, and it was unquestionably well worth it. With the portion sizes here, it is completely possible to get a dinner for that price, such as a 'Mediterranean plate dish' for $10, or one of the many options still well within the quick-lunch price range.
If you're looking for a very high quality lunch or dinner for not very much, and you're interested in Mediterranean food (or even if, like me, you're only interested in the chicken) then I cannot recommend I-Pocket any more strongly. To be blunt, the service was excellent and fast, the food was decidedly delicious, and I'll be going back very soon.