After a formal introduction, talent competition and interview round, Ron Yakirevich of Lambda Chi Alpha and Danielle Valois of Chi Omega were deemed as the winners of the University of Rhode Island's 2017 Mr. and Mrs. Greek Week.
The competition took place in the Keaney Gymnasium, and judges included Assistant Director of Outreach and Intervention Dr. Jacqui Tisdale, Assistant Director of Community Standards Joe Berardi and Coordinator of Major Events in the Office of Student Involvement Michael Nolfe. President Dooley and Vice President of Student Affairs Kathy Collins also made special guest appearances.
During the first round, one student of every fraternity and sorority on campus were introduced while wearing a sash and formalwear. The second round consisted of the talent portion of the competition. Mr. Tau Kappa Epsilon (TKE) started off the round by playing the harmonica, and more musical acts continued.
Both the Phi Gamma Delta (FIJI) contestant and Zeta Beta Tau (ZBT) contestant played the guitar, Kappa Sigma contestant sang a Lynyrd Skynyrd song and Delta Zeta contestant sang "Rolling in the Deep" by Adele. Mr. Sigma Chi gave a performance of "Riptide" by Vance Joy, and Ms. Alpha Xi Delta (AXiD) played the guitar while Phi Kappa Psi (Phi Psi) contestant beat-boxed alongside her.
Three students also took to the piano for their talent. Mr. Theta Chi rapped on the piano, Mr. Phi Psi sang "Nine in the Afternoon" by Panic! At the Disco while playing, and last year's Mr. Greek Week winner Peter Goretoy of The Pi Kappa Alpha (PIKE) played on the piano again. Yakirevich of Lambda was the only contestant who explained the song he was performing before he played it and explained how close to his heart it was.
There were multiple talent performances that were "out-of-the-box." Ms. Sigma Kappa's (SK) recreated a picture on a poster board with glitter, Ms. Sigma Delta Tau (SDT) and Alpha Delta Pi (ADPI) did gymnastics and Mr. Alpha Epsilon Pi (AEPI) did multiple flips to The White Stripes's "Seven Nation Army." Kappa Delta (KD) sister and Phi Sigma Sigma (Phi Sig) sister put a spin on tap dancing, and Sigma Alpha Epsilon brother played the "Star Spangled Banner" on the electric guitar.
Valois of Chi Omega performed a jump rope routine while doing flips, which shocked the crowd. The judges, along with most of the audience, gave her a standing ovation and judges claimed the act would be "hard to follow." Zeta Tau Alpha (ZTA) contestant also surprised the crowd as she made guacamole.
"I hope you like guacamole as much as I do," she said, "because I have these nine ladies distributing some to the crowd."
The top five contestants were announced which included Chi Omega, ADPI, KD, SK and DZ for the sororities, and KS, Phi Psi, Lambda, FIJI and PIKE. Then, these ten contestants were asked questions which ranged from "If you could have dinner with anyone dead or alive, who would it be?" and "What was your biggest academic challenge at URI?"
Ultimately, the third place winners were announced as Phi Psi, and a tie between KD and ADPI and second place went to Kappa Sigma.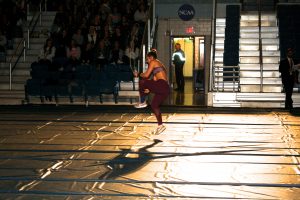 "It's a great feeling [to win] because of the outcome last year," Yakirevich said. "It feels much better coming back this year and having a different mentality. I had no expectations, I just wanted to have fun and I guess having a lot of fun came to this outcome. I'm really humbled to win this."
Valois explained how winning Mrs. Greek Week was such an unexpected honor since when she auditioned, she didn't expect she would get it, let alone win the entire competition.
"It's a fantastic feeling to have been able to expose the entire Greek community at URI to what I do as a jump roper, because it's been such a huge part of my life," Valois said. "I've also found out just how supportive everyone in the sorority is. It's just so surreal I'm not even really sure how to comprehend it."
Greek Week continues tonight with Greek Sing at 7:30 p.m. and Lip Sync tomorrow night at 7:30 p.m. in Keaney Gymnasium. Both events are free and open to the public.