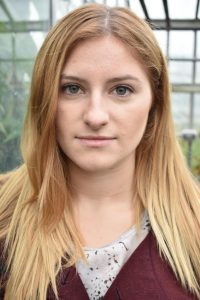 Students Catia Ramos and Jessica Winward from the University of Rhode Island were selected to showcase their talent at the 2018 Kennedy Center American College Theater Festival (KCACTF).
The KCACTF is a theater festival among all colleges in the United States. The country is broken up into eight regions. URI is in region one, which includes all of New England and eastern New York.
Ramos, a theater major with a concentration in acting, was nominated for an Irene Ryan Acting Award. To get nominated for this award, a correspondent from KCACTF comes and watches performances at various colleges and then has a discussion with the director about who has earned the nomination. At the festival, Ramos placed in the top 16 as a finalist.
"I was the only person from our school to make it to finals and this is my second year in a row," Ramos said. "Out of the 170 [people], I made it to the top 16."
While Ramos was performing on stage, Winward, a pre-vet and theater major with a concentration in design, was showcasing her lighting design. Winward presented her lighting design from URI's mainstage production of Eurydice this past fall. Her design won her the Barbizon Lighting Award. Winning this award makes Winward one of the top eight lighting designers in the country. She will be traveling to Washington DC in April to compete in nationals.
The festival occurs over the course of a week, beginning on Tuesday and ending on Saturday. When students aren't competing they're attending various workshops that work around acting, directing, design and other aspects of theater. Winward was fortunate to attend many of the workshops offered.
"They helped me dove deeper into my knowledge of design," said Winward.
While Ramos only got to attend one workshop, the one she attended was called "diversity as an asset."
"It was talking about how we need to widen the image we see to make it reflect more on the people today," said Ramos. "Whether it be people of all minorities, disabilities, sexaulity and just broaden the spectrum of what we see in theater to reflect what we see in real life."
The KCACTF is a great place for students to share their talents with other students who are also supporters of the arts. Ramos enjoyed her second time attending the festival even more than the first time around. This year she particularly felt like everyone was incredibly supportive of each other.
"It was really just a supportive vibe this time," said Ramos. "Everyone just loved what everyone else was doing."
For Winward, she enjoyed the work of other designers as she felt that seeing their work will help prepare her for what she's up against next year post graduation.
"It was really eye opening for myself to see other designer's works and see what I'm kinda up against in the actual world," said Winward.
While Ramos wishes she could attend the festival again next year, Winward is hopeful that she will be asked to return to defend her title. In this upcoming season, Ramos can be seen as Mistress Overdone in Shakespeare's "Measure for Measure," which opens next Thursday, with URI's theater company and as Theseus and Cobweb in Shakespeare's "Midsummer Night's Dream" by Outloud Theater in Providence. Behind the scenes, Winward can be found as the assistant lighting designer for both "Measure for Measure" and "Mary Poppins", as well as the production manager for "Mary Poppins."