On March 7, the University of Rhode Island student body elected Nick Marotta and Amanda Marino as the next Student Senate president and vice president.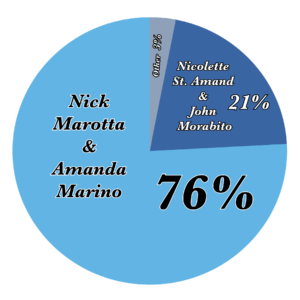 The ticket received 749 votes from the student body for the position, according to unofficial election results from the Elections Committee Chair Jennifer Kohl.
According to Moratta, the major initiatives he will be pursuing are parking, multicultural, health, advertising, sustainability and Greek Life.
Marotta said that he will first take on the parking issue on campus, and has met with the police department and transportation services on a new parking plan.
This plan will be implemented in the fall of 2019, according to Marotta, and would involve students who would like to be environmentally responsible to purchase a significantly cheaper parking permit.
"So, for example," said Marotta, "if you go in on this plan with two or three people, all of your car's license plates are scanned and on that permit, but only one of your cars is allowed on campus in these certain spots at any given time."
Tristram Howard, the previous vice president, said that he thought Marotta was not a good candidate for the position of Student Senate president.
"There's so many reasons why, he strikes me as a somewhat entertaining, but largely ridiculous individual, whose statements jump between hypocrisy and hyperbole with a large dose of calumny," said Howard. "I haven't got the first clue what his plans are, other than that he wants to involve Greek Life."
Marotta also said that he has been working on conducting studies to determine if the town of Narragansett is treating students, and specifically Greek Life, unfairly.
"I'm in the process of determining whether or not they are taking advantage of us," said Marotta. "And if they are, we're going to be coming together as a University with leaders [to] create a more fair plan for our University's students, because we are the backbone of the economy of Narragansett."
Marotta said that he believes he is very prepared for the position of Student Senate president.
"I'm really excited about it, and I'm excited that we have a new wave of senators that were just selected, a very diverse group, which will help when looking to push these plans forward because we have a wave of new energy coming in and a new wave of enthusiasm," said Marotta.
Marotta said he intends on using the new wave of enthusiasm in Senate to push for their agenda.
Nicolette St. Amand, the runner up candidate in this election, said that herself and her running mate, Johnny Morabito, worked really hard on their campaign.
"I think at the end of the day, we're just happy that the person that did win, Nick Marotta, obviously really cares," St. Amand said. "We think that he's going to do a great job, and we're just looking forward to hopefully getting re-elected back onto [Student Senate] and being on it for our senior year."