What do you like to wear in the spring? PHOTO CREDIT: Ellie Sennhenn | Staff Reporter
Students at the University of Rhode Island see fashion as a mechanism of self expression.
When getting dressed in the morning, third-year secondary education and biological sciences double major Katelyn DeAngelis likes to "stand out."
Wearing a multicolored crochet cardigan, a long green, blue and white tie dye skirt and black platform sandals, DeAngelis stated that it is important to express yourself in any way you can. For her, it is through style.
"It's not like I try to fully stand out, but I like having statement pieces in my outfits," DeAngelis said. "They can really change or excite my outfits, and make them interesting."
DeAngelis stated that she cycles through styles — "drastically changing" herself every year. She believes that people can't be tied down to one trend or clothing item.
DeAngelis gets her outfit inspiration by scrolling Pinterest until something clicks, according to her. She prefers to thrift — either in person, at the Savers in Warwick, or online, through buy-and-sell clothing sites like Depop.
Second-year English major Haley Westberg also stated that she shops on Depop and appreciates how the site explores a realm of different fashion trends.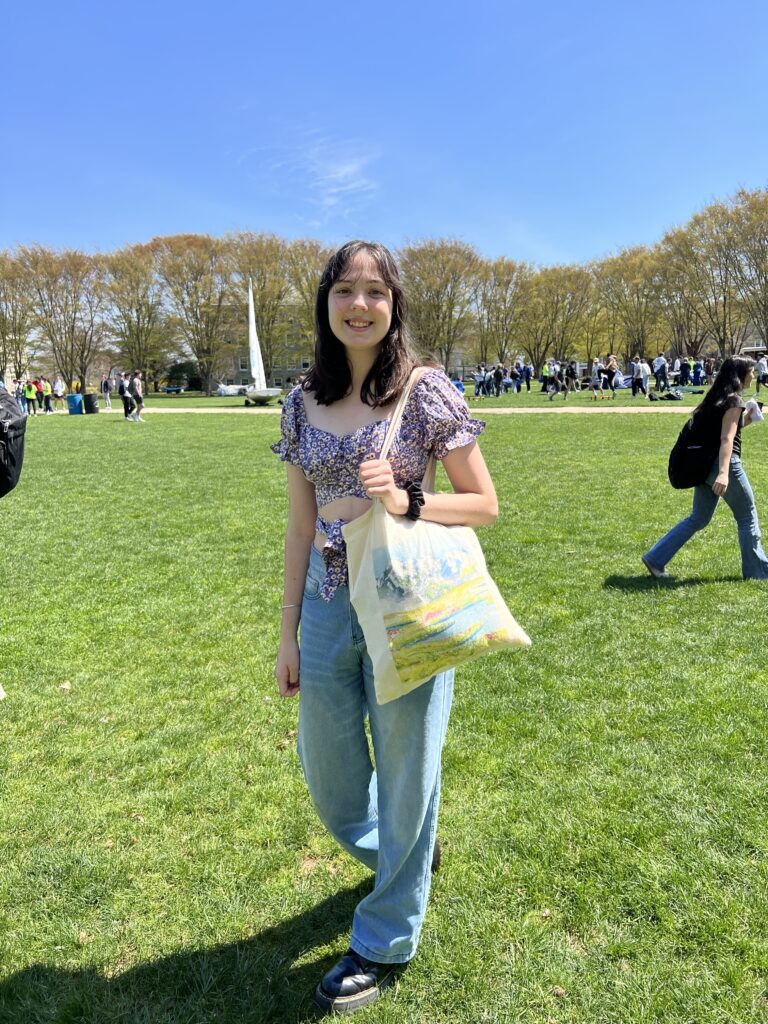 Westberg, wearing light wash jeans, a floral top and canvas tote bag, said she gravitates towards cottagecore and emo styles.
Cottagecore is an internet aesthetic inspired by an old-fashioned, rural lifestyle, according to Dictionary.com.
"I know I'm not dressed like it right now, but I really do like the emo trends," Westberg said.
While Westberg thrifts at her local Savers to find clothing pieces, her wardrobe is mainly clothing her mom used to wear.
"When [my mom] was in college, she dressed in a similar way that I do," Westberg said. "I get clothes either through hand-me-downs or just stuff she thinks would be cute. It's always just a mystery to me."
Two of Westberg's roommates are fashionable, according to her, and are big influences on her style.
Westberg stated that, in high school, her dad didn't always like her style. She often found herself wearing one outfit out the door and then quickly changing in the car before class.
"I realized that I'm in college now, and that no one can really tell me how to dress or style myself," Westberg said. "There's no judgment [at URI]. Nobody really judges you in college."
A student in one of Westberg's classes wears a costume to class every day, and no one bats an eye, according to her.
"No one cares, so dress how you want to," Westberg said.
Sporting a fully-thrifted outfit, consisting of a pink fur coat, braided beige belt, cropped jeans, white fur boots and a pink lip, second-year Marissa Drezek stated "I am wearing pink today because it's my favorite color."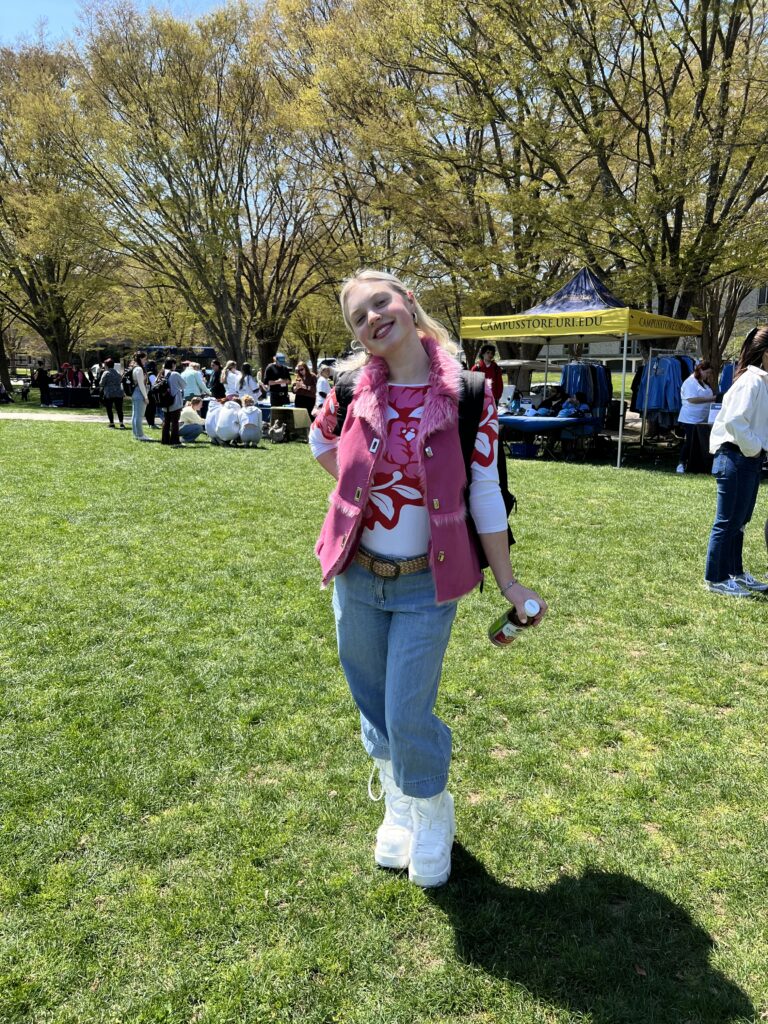 Majoring in fashion merchandising and design, Drezek said she sees fashion as a way of expression.
"Sometimes I'll go to Savers and just sift for hours through the racks until something catches my eye," Drezek said. "Then I'll eventually go see if it fits, and then go from there."
For style inspiration, Drezek looks to both on campus and online.
"Even if I'm just walking around the streets or heading to class, I'll be looking around to see what other people are wearing and take inspiration from that, or be more confident to wear something," Drezek said.
In addition to adding pins on her Pinterest boards, Drezek watches fashion YouTubers like Mina Le and Frugal Aesthetic to spark her style creativity.
"Just be yourself," Drezek said. "I know it can be hard to dress how you want, and you might feel scared that you'll be judged… but in the long run, if something makes you happy, then you should wear it."