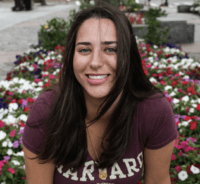 Journalism is a passion of mine that I wish to pursue professionally once I graduate. Being able to write and put the news section together for the Cigar is an incredible learning opportunity that will help me achieve my professional goals.
Even before it was the subject of national attention, sexual assault uniquely affected college campuses, and the University of Rhode Island is no exception. Earlier this year, senior Kelsey Santmyer wrote a column titled "Rapists shouldn't be able to hide behind their letters," where she pointed out the flawed...
Thursday, Nov. 16: At 9:54 p.m. a complaint was filed at Lower College Road. Apparently, some kids were on the RIPTA bus and started to get too rowdy. The bus driver called the police to get the students removed. At 9:45 p.m. there was a motor vehicle stop at Plains...
Wednesday, Nov. 8: At 4:34 p.m. there was a motor vehicle accident on Flagg Road. This is currently being investigated. At 1:11 p.m. a disturbance was called in from Heathman Hall. There was a verbal argument in a dorm room. A report was filed. At 5:17 p.m. there was a...
At the Student Senate meeting on Wednesday night, there was heated debate regarding revisions to Article III, which discusses the constituency of housing representatives, of the Senate Bylaws. One clause specifically bothered the members of the Student Senate. The clause stated that housing representatives were required to live in...
Thursday, Nov. 2: At 12:45 a.m. the assistance of the URI Police was needed at CVS. The alarm went off, however there was no break in and the building was secure. At 3:44 p.m. there was a stolen item at Hope Dining Hall. A girl left her wallet on a...
The Student Senate recognized two organizations last night. The first was Alpha Phi Omega, a coed service fraternity. This group is not associated with Greek Life and focuses on community service on campus. They also focus their efforts on contributing to Habitat for Humanity. They currently have 25 members...
Wednesday, Oct. 25 At 9:06 p.m. there was a report of a suspicious person on Lower College Road. However, when the police arrived, the person was gone. At 5:34 p.m. harassment was reported at Hillside Hall on Campus Avenue. There was a high school student harassing a URI student over...
The Student Senate unanimously voted to recognize two unfunded student organizations last night. The Student Senate voted to recognize a club track and field team this week. This organization wishes to provide a more competitive atmosphere than the running club. Along those lines, they also wish to train more...
The Student Senate voted to recognize NESA as an unfunded student organization. This club says they meet twice a week to help members practice for competitions. The competitions are once a year and they include colleges from the north east region. They have won this competition once, two years...
Tuesday, Oct. 10 At 12:13 a.m. there was a medical emergency at Barlow Hall on Campus Avenue. An escort by the police was needed. At 5:55 a.m. a fire alarm went off at Frat Circle. No action was required. At 1:40 p.m. there was a report of larceny East Farm. Allegedly, wood...