The pressure to perform is always immense for Division I athletes; recruits are expected to deliver and meet their coach's expectations.
If they are lucky enough to avoid injuries, both parties will feel satisfied with the finished product at the end of four years. Few players, however, can produce right away as freshmen, where the learning curve is often too narrow to facilitate immediate success.
University of Rhode Island wide receivers Khayri Denny and Marven Beauvais have wasted little time making their presence known by infusing new life into the football team's offense.
The freshmen are making noise in the Colonial Athletic Association this season with both of them ranking in the top 10 in yards per catch. They are providing the team with a much needed spark, but they are doing it as two different players with their own unique skill sets.
Denny's journey to URI was one that took its time to materialize. He was an all-purpose powerhouse and the focal point of Fork Union Military's offense in Virginia during a standout season at the prep school. Still, the recruiters did not come right away, leaving Denny's future uncertain.
"Recruiting was kind of slow because the coaches that came didn't really come for skill positions so I really had to get all of my looks at the last day, which was at a combine we had," Denny said. "[URI Wide Receivers] Coach [Ari] Confesor looked at me right away and after that they offered me a scholarship. I just liked the team. Everyone is just like a big family. We're all brothers."
The possibility of playing right away and becoming a starter that would fill an apparent need was something that convinced the speedy playmaker to join a group of fellow youngsters and try to revitalize the program. Denny's impact, unlike like his recruitment process, has been fast. He has already hauled in two touchdown receptions to go along with 299 receiving yards.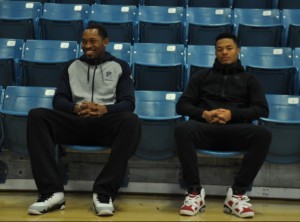 Beauvais's road to success was a more gradual rise that required him to stay patient during a redshirt season. It gave him time to nurse an injured Achilles and allowed him to become more familiar with his position and the coaches' expectations for him.
"It helped me understand the system and the program better," Beauvais said. "I knew what the coach wanted. He wanted me to play every day and I had to prove that I could."
Beauvais, a Cranston, Rhode Island native, has assimilated nicely at URI. He's grateful for the opportunity to play in front of his friends and family, as well a fan base that is becoming more aware of his talent, as he uses his massive 6-foot-4 frame and good hands to overpower cornerbacks for over 250 yards this season.
Head coach Jim Fleming was well aware of the potential of his freshmen tandem, and is impressed by its quick development, but knows that it will only continue to improve.
"I think they fit in quite nicely," Fleming said. "Marven's been here for a year. I knew there was potential with his huge catch radius. He has huge upside with a lot of good things to come. Khayri has very good speed. He could do a couple of different things for us. He gave us exactly what we needed. We've asked a lot of them and we'll continue to ask a lot."
Denny and Beauvais entered this season anxious to prove their coaches right. But they quickly discovered how difficult the leap from high school to college is, when they were given the tall order of facing Syracuse University in their debut.
"I was pretty nervous because I knew it was the top, the Division I level we were going to be playing against," Denny said. "I never played against anyone like that. The speed is not the same. After we first played, I was fine."
The duo has endured defeat several times, but they have been able to stay motivated and reliable playmakers through all of the futility. Doing it together as freshmen has helped Denny and Beauvais strengthen their friendship.
"When I first got here, we weren't that close," Denny said. "But when we actually started playing together we definitely had a close bond. I know when he's not in a right mood and I'll come up to him and tell him you need to step it up."
They have become key fixtures in the Rams' offense by understanding the expectations of the coaching staff, who do not allow their class year to affect the burden of responsibility they are given.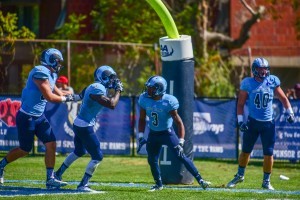 "They don't really pressure us," Beauvais said. "They let us figure it ourselves. They know what our skill set is. Me, it's my size. No corner should be able to stop me from getting the ball. And Khayri, coach tells him to use your speed. No corner should be able to run with you. He doesn't pressure us, he just knows we are capable of doing it."
Despite the success of the receiving core, the Rams have struggled with a 1-6 record. The plethora of young talent on both offense and defense brings promise to a team that is desperate to move forward.
"The wins are going to start coming," Beauvais said. "Our young guys are stepping up. If they are making plays now, they're going to make plays as they get better. It's just so much talent at a young age."
Beauvais and Denny will look to pile up their stat sheets and the wins when they pay a visit to the University of New Hampshire on Saturday at 1 p.m.