The Harrington School of Communications and Media launched a $6.3 million project to renovate the entire first floor of Ranger Hall last Friday.
The planned construction, slated to be done in the fall of 2016, includes active learning classrooms, three audio/video editing suites, an audio recording studio, a film screening room, a social media innovation lab, a media equipment resource center, an advising center and a central room for public gatherings.
Harrington School Interim Director Adam Roth said the construction is "truly a milestone in the life of the Harrington School."
"This building and this renovation project will represent the heart of the Harrington School and the home to the six programs that are currently encompassed within it," Roth said.
Donald DeHayes, the provost and vice president for Academic Affairs, said the remodel will be the "rebirth of the Harrington school," which will be used to "help retain the best and the brightest."
DeHayes made a point to mention Dick Harrington, the namesake for the Harrington school and the donor for almost one sixth of the entire project's cost. He said the renovations and the building would become a symbol of what the Harrington school stands for, being "in front of the pack rather than racing to catch up."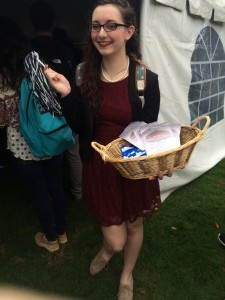 Sledgehammers were used to break a mock ceremonial wall outside Ranger Hall, representing the "groundbreaking" of the renovation of the existing building. The users of the sledgehammers included DeHayes, Dean of the College of Arts and Sciences Winifred E. Brownell Brownell, Thomas-Reuters Corp., Senior Vice President of Communications Michael D. Moore and Stacie Belizaire, an undergraduate student of the Harrington School.
Roth said more than just the Harrington students will use the new space, as the program involves hundreds of general education courses which are taken by thousands of students. He said Ranger Hall will be "more than a home for the Harrington School, this building will be used by all students on campus."
Rachel Bausse-Kauffman, a Harrington School RAM, hands out programs before the start of the event
Adam Roth addresses the eager crowd at the start of the ceremony.
The students, faculty, alumni, and guests, totaling over 250 people, spill out of the tent in the midst of the ceremony.
The first floor renovations to Ranger Hall will serve to be a home to the six programs of the Harrington School of Communication and Media.