After a year of speculation and rumors, students at the University of Rhode Island returned to campus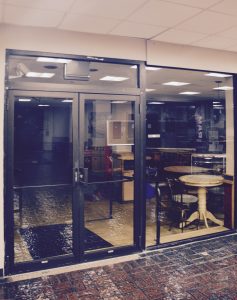 to find that Ronzio Pizza and Subs is no longer inside the Memorial Union.
On June 30, after failing to come to a new lease agreement, Ronzio's lease with URI ran out, forcing them to close their doors.
"I don't know what the school has planned, but obviously it doesn't have plans for us," Cosmo Gentile, the owner of Ronzio Pizza, said. "The school and the state have effectively put us out of business."
The ordeal began last October, when Ronzio Pizza began the process of getting a new lease.
"We actually reached out to the school last October to say 'our lease is coming up in June, and we just want to get ahead of it,'" Gentile said.
One of the reasons that they reached out so early was because the Memorial Union has a new director, Maureen McDermott. Gentile wanted to give the new staff plenty of time to work on the new deal.
According to Gentile, URI only offered them a month-to-month lease, which he called "unacceptable." However, McDermott said that the university offered them a three-year lease, rounding out a 10-year limit.
"The university and the state does no more [than] 10 years at a time, so their last three year extension would've been it," McDermott said. "Then we would've had to go out to bid."
However, once the process began, it immediately ground to a halt.
"The university purchasing process doesn't go as quickly as we all hope," McDermott said. "It gets slowed down and bogged down because they're dealing with the entire university."
To apply for a new lease, the university and the interested party must agree on a request for proposal, or an RFP. While the process usually only takes a couple of weeks, it has been nearly a year now.
"I've been in business for 30 something years on both sides of the RFP process, and if it takes a few months it's a long time," Gentile said. "It shouldn't take this long."
Even if the RFP is finished in the next couple of weeks, Gentile doesn't know if Ronzio Pizza would even be able to come back to the Memorial Union. He added that even if Ronzio Pizza got the lease second semester, "I'm not sure we can make it."
Gentile also highlighted how Ronzio Pizza has given back to the community in several different ways. They contributed to First Night, to Greek Week, and most notably, to the grab and go system. In 2014, when Butterfield Dining Hall was under construction, Ronzio Pizza was part of the grab and go section of the meal plan in order to give URI students more options to eat while the dining hall was closed.
"I don't feel like we've been given an even shake here," Gentile said.
Despite all of this, Ronzio's lease ended and is no longer in operation. However, the Memorial Union stated that the lot where Ronzio Pizza was will still be food based, regardless of who or what is in there.
"A lot of students wanted healthier options, different options so we've left it kind of generic as to what could go in there so we have more options to choose from," McDermott said.
The university expects the spot to be filled by the spring semester.