Two students were arrested and one was injured during riots that broke out at the University of Rhode Island after the Patriots' Super Bowl win Sunday night, according to URI Public Safety officials.
The names of those arrested have not been released, but one officer confirmed that the injury was a head laceration. The officer said he was unaware of the cause of the injury.
Several hundred students rioted through the Kingston campus and dismantled signs, knocked over trash cans and set dumpsters on fire. Some students reportedly went swimming in the pond next to the Anna Fascitelli Wellness Center, according to bystanders. Other students reported rioters climbing the goalposts on the football field.
"A trashcan was just lit on fire on the quad," a student, seen leaving the Quadrangle, said.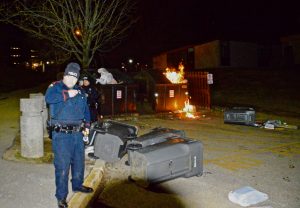 "It started down by the gym, people knocked over a dumpster, lit one on fire," Jake Clark, a sophomore, said around 11:50 p.m. Students threw toilet paper in the trees, and lit the paper on fire, he added.
"It's been pretty peaceful for a riot," sophomore Olivia Paluzzi said.
A student brought a speaker to the quad and was playing music, while students chanted "Brady" and "U.S.A." The group migrated down to toward Barlow Circle, where students were seen tearing trees out of the ground and attempting to knock down a lamp post on the side of Butterfield Dining Hall.
Students took to social media to express their opinions on the riots.
"I don't support property destruction under any circumstance but somehow you [were] all more energized to come out in droves because of a football game than the night where an fascist was elected. Prioritize your energy #uri," freshman Mark Gall wrote in the URI Class of 2020 Facebook page.
Also read: Importance Uninsured Underinsured Coverage California.