Atlanta Alternative Spring: Break
Freshmen secondary education and history major, Mary-Kate McGeary, went on an alternative spring break trip to Atlanta as a part of the University of Rhode Island Service Corps. "I went to Atlanta because I have always loved community service, but have never been able to do it on a larger scale," explained McGeary.
"Our focus for the trip was poverty and community rehabilitation so this service trip was an opportunity to see different struggles that I wasn't used to seeing in Ridgefield, Connecticut," McGeary said.
The trip allowed for five days of service where volunteers worked each day with different organizations including SafeHouse Outreach, Atlanta Food Bank, Urban Farm, Loaves and Fishes, the Potter House and Habitat for Humanity.
"The trip has shaped me in ways I didn't expect," McGeary said. "I feel much more confident not just with my service but with everything. Alternative Spring Break has shaped me to be a better leader and strive to do more for myself and my community."
"The most important thing we all took away from our trip was to do the one thing we were put on this planet to do: love everyone," McGeary emphasized. "You may not have money or means to give to people, but you don't have a limited amount of love, you can and should love everyone you can."
In addition to experiencing all that Atlanta has to offer and highly recommending an Alternative Spring Break to others, McGeary would like to add "on behalf of ASB ATL, we want to give extra love to our amazing student leaders: Nicole Schwab, Matt Glass, Danny Proia and Madison Dolecki. Thank you all for everything you do!"
Home to work and Save Money
Junior sociology major with a focus in criminal justice and criminology, Will Kuckel, did not go anywhere this spring break, opting to save and earn money. "I worked everyday at Luxe Fitness in Westerly and Wakefield," explained Kuckel.
Kuckel went home to Plainfield, Connecticut to see his parents once, but he chose to forgo a spring break trip in order to save up for a trip during his senior year. "I already have a trip booked for Miami," Kuckel said.
When asked if he would consider an Alternative Spring Break trip he said "No shot. I'd rather just chill and go to the bar and listen to Wagon Wheel about ten times."
Alternative Spring Break: New Orleans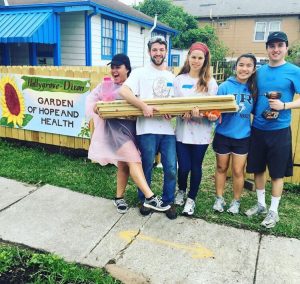 Kinesiology major Kristen Gershkoff, signed up for her alternative spring break trip a few days prior to leaving due to a last minute open spot. "I was really interested in doing any [alternative spring break], and this one just happened to fall in my lap at the right time," explained Gershkoff.
"I was really excited to go to New Orleans because of their rich history of jazz and racial progress," emphasized Gershkoff. "I had also never been to Louisiana before and I love to travel."
The trip was organized by ServeUp, a nationwide service organization that focuses on understanding and working to end racial and ethnic issues through discussion and service in affected communities. ServeUp partners with InterVarsity, a Christian organization on college campuses worldwide. Gershkoff says that while she is not personally religious, the organization allows anyone to attend.
"We all took a bus ride there which lasted 27 hours each way," Gershkoff elaborated. "The close quarters made it easy to bond with everyone quickly! We were able to take a coach bus and shared it with a few other colleges in the New England area."
"There are still houses in New Orleans that have not be renovated since the hurricane 12 years ago," Gershkoff explained. "Many of those houses did not have insurance and the federal government has been assisting in restoration funding very minimally, so most of the work is left to volunteer organizations."
Gerskoff, who would definitely consider another alternative spring break trip in the future, said "I have learned so much from this experience and am now motivated to advocate for racial equality which such a monumental issue in America."
A trip to Miami and a cruise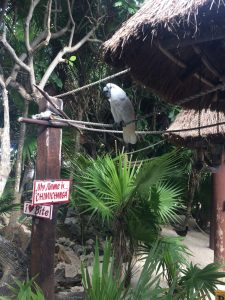 Senior human development and family studies major, Bianna Abamelik, went to Miami with two of her friends for spring break. From there they went on a cruise that stopped in Key West in Florida, Cozumel in Mexico and back to Miami.
Related post: Enjoy Mexico Top places to visit in Mexico.
Abamelik and friends planned the trip for a while but only booked it 2-3 weeks in advance. "It was an amazing trip and I would definitely do it again," said Abamelik. "It was most worth the expense because everything was included and it was extremely safe. Prior to booking we looked into traveling to a Caribbean Island versus a cruise and realized that a cruise was much cheaper and offered the same things an all inclusive resort does."
"We only went for four nights but it was the perfect length," Abamelik said. "I would recommend a spring break trip like this to any college student. There were a wide variety of people and everyone was super friendly and open to making friends with each other."
Some helpful tips Abamelik recommends are booking flights in advance, and if you have to fly to get to your cruise arrive a day early so you don't have to rush from the airport to the ship. Be sure to book excursions, and if you're looking to meet more people your age on the trip book a trip that lasts 4-5 days.
"I will forever remember this trip and can't wait to go on another cruise trip with my friends," Abamelik said. "We made so many memories not just on the boat but off the boat as well.The best part of a cruise was that we got to explore each place for several hours, meet the locals, shop around, and see popular landmarks. My friends and I still talk to the people we met on the boat and we plan on meeting up with them in the future."