by Ian Weiner and Kayla Laguerre-Lewis
Since the School of Education and the College of Continuing Education merged in 2017 to become the Alan Shawn Feinstein College of Education and Professional Studies, the University of Rhode Island's continuing education programs have shrunk significantly while the School of Education has expanded.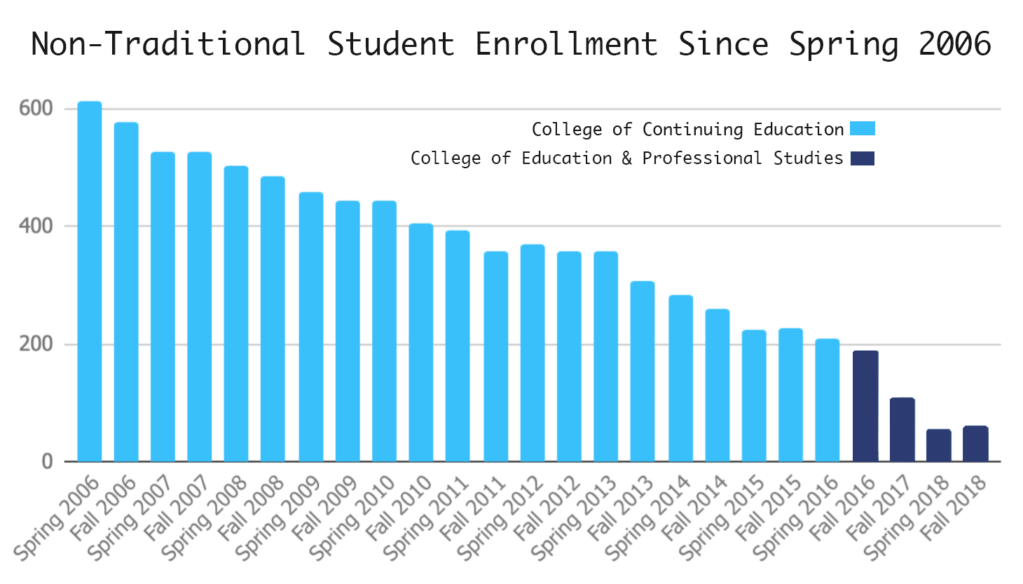 When the new college was created, a two-school structure was set up: the School of Education and the School of Professional and Continuing Studies.
Under the leadership of Dean Anthony Rolle and Assistant Dean Tammy Warner, who are in charge of the Feinstein College of Education and Professional Studies, the education side of the college has grown in enrollment and opportunity.
On the other hand, multiple faculty and staff have expressed concerns over what appears to be a disintegration of the professional and continuing studies branch as well as lack of transparency and communication.
According to Kat Quina, the former associate dean for what was the College of Continuing Education, URI had the fifth largest degree-granting continuing education program in the country in 2008. At that time, a student could earn their entire degree in Providence from seven different programs.
"About the time I became associate dean, we really transitioned, and we turned into more of an urban center and we began looking for audiences and it drew a much more culturally, racially, ethnically diverse audience," Quina said.
The School of Professional and Continuing Studies enrollment has declined from 502 students in 2008 to 60 today, according to the Office of Institutional Records. The enrollment dropped by more than half between 2017 and 2018, when the two schools merged.
Communication Studies professor Vince Petronio, who has been involved with the branch since 1982, criticized the current situation in Providence. During the merger, Petronio mentioned that many meetings were had and questions were raised about the future of continuing education.
"Throughout all of those meetings our major concern was losing our identity," Petronio said. "We were assured by Provosts and Deans that we would not lose our identity. Our concern was for our nontraditional BA students, that they would not be left out in the cold. And we were repeatedly assured that that would not happen. And in my opinion, that's exactly what did happen, what has happened."
Academic Advisor Jeff Johnson experienced the merge and all of the internal confusion that came along with it.
"If there was really transparency going on at the University, I think people would be a lot more in tune to what's happening," Johnson said. "When you have a stream of customers that you're no longer going to serve, you'd like to be able to give them an alternative. I really don't think the University of Rhode Island has done that yet."
Johnson said that when he has questions of the assistant dean, he knows that he is getting a truthful answer when he's being told "I don't know."

"I feel like the questions I'm asking are pretty basic, pretty direct. It should be part of the forethought before taking some of these actions," he said. "No one has everything figured out before they start to move, I grant that, but at this point, we are operating still in the dark."
Johnson and Petronio both feel that with these changes, local adult students no longer have a viable degree-granting option at the University.
One key area of contrast between Rolle and many of the faculty members is that they have opposing views on what continuing education can be defined as.
"Continuing education typically is associated with folks who either do not have a degree and want to kind of put a toe in the University to begin to understanding the process or continuing education is for folks who already have a degree and want to do some type of post baccalaureate work before entering a masters program," Rolle said.
Johnson, Petronio, Quina and a member of the School of Professional and Continuing Studies who chooses to remain anonymous see continuing education as a long-term degree-granting program, particularly for non-traditional students.
"These were adults with families, full-time day jobs, who would take maybe one or two courses a semester, if that," Petronio said. "In Providence, we've had students going for 10, 14 years or longer to complete their degree. I think what's most sad is that these nontraditional students, these older students in Rhode Island, have less of a choice, have less availability to get a college degree."
With the merger and the movement of all bachelor of arts programs outside of education to the Kingston Campus, Petronio feels as though it will be impossible to properly serve these non-traditional and it could be part of the reason why their numbers are dwindling. He believes that advisors at the Kingston Campus aren't equipped to advise non-traditional students.
"You can't administer that student the same way you can an 18-22 year old. I mean, it's ridiculous to think you could," Petronio said.
Quina also felt as though what made the College of Continuing Education special was that faculty knew how to deal with students of all ages.
"Faculty were there on campus so students had people to go to, and those are really the key elements, those kinds of factors are very important. It's almost like you have to have a whole different attitude when dealing with continuing education," Quina said.
Petronio also added that a reason the continuing education programs did so well was because of past deans' focus on making the Providence campus a comforting place for the adult student, rather than trying to be an extension of the Kingston campus.
"Through my entire time with the Providence campus, the drum that kept getting beat upon was that we're not a building on the Quad in Kingston," Petronio said. "We're a separate campus and our student population is different."
As a result of the low enrollment, many classes that were previously offered are no longer available to students. Upon reviewing course offerings through the school's e-Campus portal, about half of the classes for the schools only current major, the Bachelor of Interdisciplinary Studies, could not be found for students to enroll in.
"I would be more engaged with knowing the numbers of students who want to be in Providence, who do miss out on the class offerings, who do want to be adult students there, who are going to other institutions now," Johnson said. "They're being forced to. It's not that the business is not there anymore, they're going to other places."
Rolle explained that the faculty that were once a part of the College of Continuing Education have returned to their original colleges, and with the new organization of the colleges, it is up to the other Dean's to decide if they would like to offer courses in Providence or not. The previously offered Bachelor of Arts programs are not degrees granted by the School of Professional and Continuing Studies, but by the other academic degree granting colleges at URI.
"Other colleges may also offer their courses in Providence as well, but that's a discussion that I will have with their deans about what is most appropriate for their colleges to provide in terms of undergraduate classes and graduate classes for students in their colleges on the Providence campus," Rolle said.
Rolle added that the Bachelor of Interdisciplinary Studies is currently the only approved major for the School of Professional and Continuing studies, and that he is in the midst of propelling a degree in professional leadership and nonprofit administration through the faculty senate so they can be made available to students and begin hiring faculty for those programs. They are also currently in the process of redesigning the BIS to become a three minor-major program, where students can choose three minors from across the University and complete those programs with the help of advisers from those departments.
"At the time of my arrival, I worked with the faculty and staff and the University develop new programs that were market relevant," Rolle said. "We are in the process of hiring one lecturer in professional studies and one lecturer for nonprofit administration. We also are in the process of hiring a director for the school as well."
Warner added that these programs will give students an overall better experience, and allow them to leave with greater qualifications and opportunities.
"They will have more opportunities for co-curricular learning, to have better experiential learning opportunities, to come in to a degree that is better able to prepare them as they move up the ladder or as they look to consider other employment opportunities, perhaps outside of their field," Warner said. "This will be an excellent program for them to come back in to."
The School of Education side of the Feinstein College has seen an increased amount of financial donations, considerable rise in enrollment, expanded study abroad options and modernization of classroom spaces.
Records from the Office of Institutional Research show that enrollment in the School of Education more than doubled between 2017-2018.
Alan Shawn Feinstein and Carolyn Hunter have increased their contributions to the school, that can be used for scholarships and other financial aid needs. The donation that Feinstein gave to the college will be used for Rhode Island high school students who are coming in as Feinstein Junior Scholars, have a need for financial aid and have been accepted to the Feinstein Leadership Scholarship Program. Hunter has pledged an additional million to the $200,000 she is currently donating.
"If you are a student in Rhode Island and if you've ever been a Feinstein Scholar and you're interested in education, Mr. Feinstein has generally increased his donations and contributions," Rolle said.
Modernization to classroom spaces in the Shepard Building, which is the home of the University's Providence Campus and the college, have resulted in technology advancements and opportunities for non-traditional styles of teaching. Rolle said a new classroom will seat 72 students and has 12 computer screens and have two 84-inch screens in the front.
Rolle is also seeking to create international opportunities that will be available to students as soon as next fall.
"We believe that students need multiple experiences and multiple contexts to understand the world around them so they can be better teachers or better nonprofit administrations or better professionals when they return home," Rolle said.
The school focuses on study abroad J-term and summer courses that will enhance student experiences. Some of these locations include the Caribbean and Asia. These trips will tentatively be available for students in the fall of 2020.
"Everything we're doing is student-centered," Warner said. "We're making all of these changes and we're always looking to continually improve what we offer. Everything that we're doing is with the student in mind to provide students much better experience while they're here and much better prospects once they leave us."
Rolle said has a goal of breaking the college into the ranks of the top 100 public higher-education institutions in the United States. In the most recent U.S. and World Report rankings, the Feinstein college is No. 108 out of all public schools.
"From what I understand, prior to my arrival, the school of education was not placed in a high profile position," Rolle said. "We're very close [to that standing] and we're only 18 months since our real full existence."
With all of these improvements, Rolle and Warner envision a college that allows students to be locally engaged, nationally respected and globally involved. Rolle and Warner plan to continue their outreach and enhancements to ensure that in the future the Feinstein College will be noticed across the nation.
"About 50 percent of our students are from out of state, so when those students return to their home states or even travel beyond to places as far as Colorado or California, that the notion that these students are from Rhode Island will continue to be respected," Rolle said. "Not only because of the rigor that they will provide to their new employer, but also because of the reputation that they will help us build."