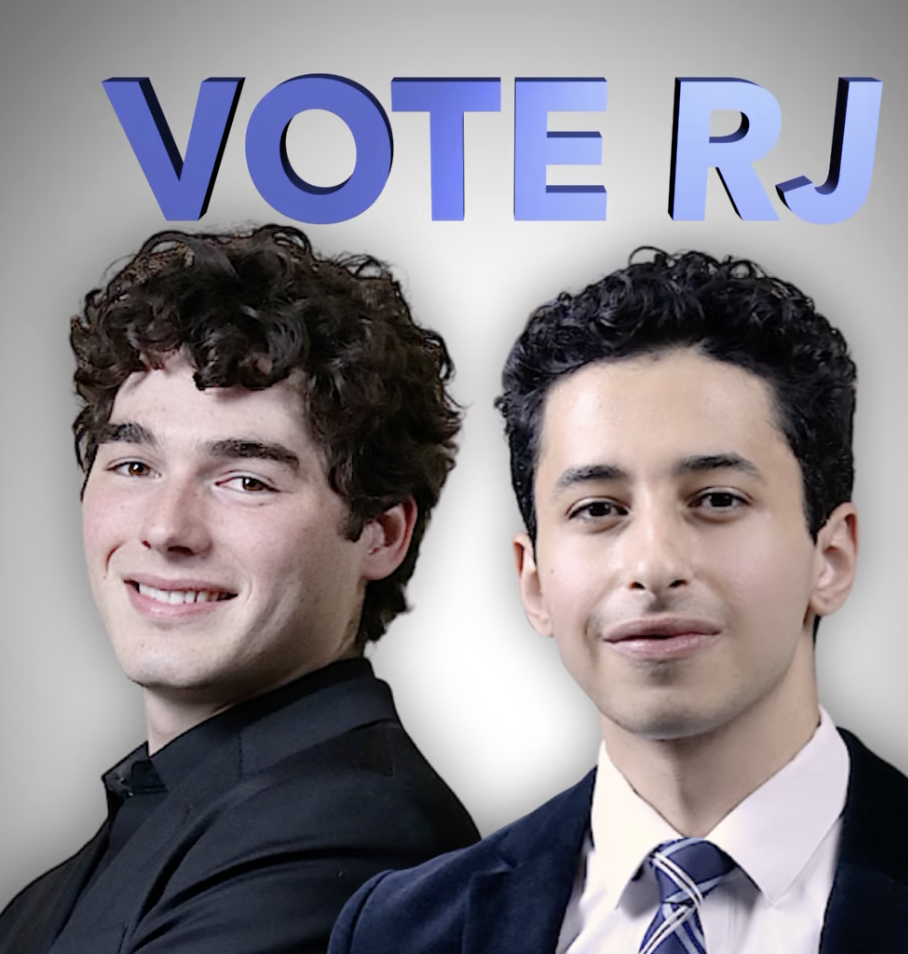 Student senate presidential candidates.  PHOTO CREDIT: LinkedIn, instagram.com/voteuri.rj
The University of Rhode Island Student Senate elections for president and vice president will be held online from Wednesday, March 1 until Thursday, March 2. This year, there are two pairs of candidates running. For president, Emily Gamache and Ramez Rizk, and vice president, Chris Hoover and Jonah Steinweh-Adler.
Emily Gamache and Chris Hoover:
Gamache, a third-year student majoring in health studies and minoring in communications, has been involved in Senate for three years as a campus chair and current vice president. She's worked with different Senate projects such as the blue light walk, creating the Women's Summit, which will happen this April at URI, organizing bus routes and bringing Aunt Flow to campus, which provides free period products to students across campus. Gamache also joined student council in fourth grade and has been a part of it ever since, but outside of Senate, she is additionally a founding member and vice president of philanthropy for Alpha Chi Omega sorority, a teaching assistant and a URI 101 mentor.
Hoover, a third-year accounting major, has also been involved in the Senate for three years as the instruments vice chair and his current position of director of treasury (DOT). Outside of the Senate, Hoover also participates in numerous case studies for the College of Business.
"We [Gamache and Hoover] are both on the same page with wanting to make Senate more aware of the rest of campus," Gamache said. "We do a lot of the behind the scenes, but I don't think students understand how much we're doing and we want to be more seen on campus as Senate and as [senators] engaged with other clubs, like being in attendance to their activities and events."
In addition to perception on campus, the pair is focused on ongoing housing issues, specifically the lack of housing on-campus and the three-student ordinance in surrounding towns.
"Housing is easily, I think, our biggest issue to tackle," Hoover said. "I mean, we are seeing a lot of students who are struggling to find housing even after school starts, that's not acceptable."
He said that the pair would tackle this issue by helping out the Senate external committee, talking with the housing foundations off-campus, such as the Narragansett 2100 Foundation, and being present both on and off campus.
Hoover said that, if elected, they'd want to change the way URI leadership looks at students.
"I think that senior leadership kind of looks at us as a number," Hoover said. "We ultimately need to have voices because if these voices are not coming from the students, it's only coming from the top leadership at the University. And if we have that, there's no control that we have over our education."
Another idea they have for making the student body's voices heard is creating a hotline or inbox for student issues to go into.
"That way it's not just Student Senate bringing up these issues," Hoover said, "but also students sending in issues that we can bring to Senate and ultimately decide what would work best for the University."
Gamache said that their years of combined experience in Senate and different leadership positions will help them best represent the Student Senate, if elected.
"We've both really, truly wanted this and we are prioritizing this position because we know that it's what we want and it's the number one thing that we'll focus on and put all of our time and effort into," Gamache said.
She also mentioned that their unique experiences balance their duo out and allows them to understand and cover more ground, such as Hoover's experience with budgets, their experience with Senate through different leadership, through COVID-19 and virtual learning, through their on and off-campus connections and different involvement across the University.
"She [Gamache] and I very much care about the organization," Hoover said. "But not only that, we see Senate as our family. Everybody on Senate, I've enjoyed working with and have enjoyed being able to hang out with outside of Senate. It's really cool, it's really awesome to meet all these different kinds of people, and I think that, too, has really motivated us to do really well for these people and for these fellow senators."
Gamache and Hoover will also be at a booth in the Memorial Union entrance to give students the opportunity to get to know them and encourage students to vote, on Wednesday from 9-11 a.m. and 3:30-5 p.m. and Thursday 1-3 p.m.
Ramez Rizk and Jonah Steinweh-Adler:
Rizk, a second-year pharmacy major, is an international student from Egypt, a resident assistant, teacher assistant, member of the Middle Eastern Student Association, a member of Christian organizations, founder of a College of Pharmacy club, a global ambassador and former student senator.
Steinweh-Adler, a second-year majoring in journalism and history, is also a campus tour guide, a member of the Middle Eastern Student Association and a teaching assistant.
"I'm really passionate about Student Senate," Rizk said. "I've had a lot of leadership opportunities that are similar to this and because I've been on Senate, I've noticed all the things that should be fixed. All the things that sometimes the Senate doesn't focus on that actually need to be focused on because students want these things."
Rizk said that the pair is focused on implementing new ideas, such as a syllabus bank, which would give students access to an online database of syllabi, food sustainability and better composting practices in dining services, supporting and increasing funds for underrepresenting organizations on campus, changing the music in dining halls and creating a system to submit music requests virtually, verifying the URI Instagram page and making the Student Senate more well known by students.
"I feel like if it were to be verified, that would make the University have a better image in the eyes of future students who are applying for URI," Rizk said about the Instagram page.
Rizk said that his connections to student body presidents from other universities makes him stand out as a candidate.
"The syllabus bank idea, I actually just asked two days ago, one of the student body presidents that implemented this idea [at his university] to send me the bill that he used to put it on the table in the Senate to actually get it into implementation," Rizk said. "He's going to send me this, so this is such a power that we have."
He also said because they both live on campus and use the facilities every day, they're adequately prepared to interact with students.
"Every single day we eat the food of the University, we go to the gym of the University, we are always in the library, you can always see us on campus," Rizk said. "So we're approachable to the students and we can represent the voice of the students."
Rizk also said that they are prepared to both solve current problems and create new innovative ideas for URI students.
"Jonah and me, we are trying to build sort of a strong student voice so that we can have sort of a clear line of communication between us and the University," Rizk said.
Rizk and Steinweh-Adler will also be at a booth in the Memorial Union on Wednesday from 1-3 p.m.
Voting started on Wednesday, March 1 online and students will receive an email from URI communications where they can virtually choose their preferred candidates. The voting will end on Thursday, March 2 at midnight.