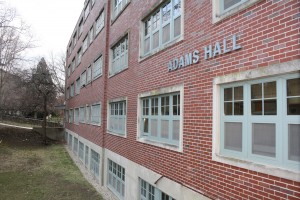 What students from the University of Rhode Island believed to be a fire in Adams hall last Sunday night was in fact nothing more than a harmless steam leak.
Residents of Adams hall were evacuated from the building after the fire alarm was pulled around 6 p.m. on Sunday, Feb. 14, according to an incident report form university police. A student pulled the alarm after seeing black smoke coming from the Adams basement and notified university police. The evacuated students didn't have to stand outside in the zero-degree weather for long after the Kingston Fire Department and university police arrived on the scene.
The black "smoke" that students reported seeing was not caused by a fire at all, according to Patrol Officer Paul Gentile's narrative for patrol. Rather, the smoke's source was quickly found to be coming from a broken steam pipe that was shooting out steam on the outside basement-level of the hall. Soon after, the water was shut down from inside the building to stop the steam from leaking out. Gentile also said that Kingston Fire then quickly turned off the fire alarms, allowing the residents to return back inside from the freezing-cold temperatures outside. There was no apparent damage to any part of the building, aside from the single damaged pipe, and no students were hurt.