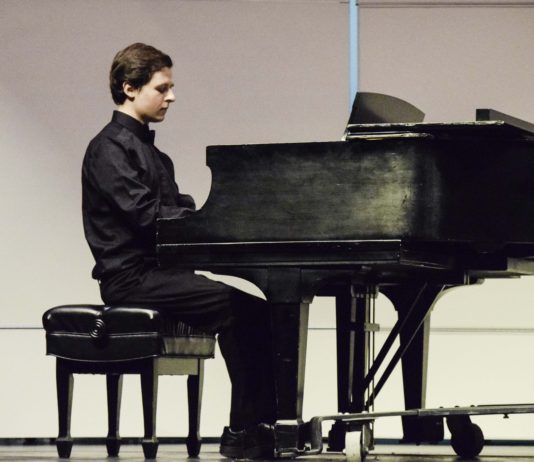 Pianist Peter Kelmelis performs from Carnaval, Op. 9. Photo by Anna Meassick Students from the University of Rhode Island's music department showcased their performance skills at the third music convocation of the semester. Four acts performed in front of a...
For everything we do in life, there is always a "why" to it. Some things are easier to find that "why" than others. What makes us all unique is that we have different "whys" to the same questions. Senior superstar Nicole Petta, is...
Students at the University of Rhode Island have the opportunity to play futsal, basketball, soccer, volleyball, and hockey as intramural sports resume this semester. Futsal, also known as indoor soccer, is played with a ball that is smaller and less bouncy than a...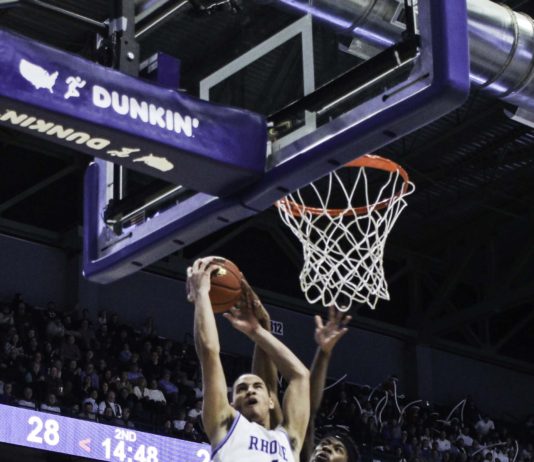 Greg Clark | Guard Tyrese Martin soars through are for a dunk. Many people predicted that the University of Rhode Island men's basketball team would be a talented team that would be prone to some missteps given their youth. This last week proved those...
by Jack Cederberg, Nolan Reilly, and Will Pipicelli Super Bowl LIII was watched by an estimated 100.7 million people on Sunday night among all available viewing and streaming platforms, as reported by Variety. Although that seems like a massive number, the earliest Nielsen projections...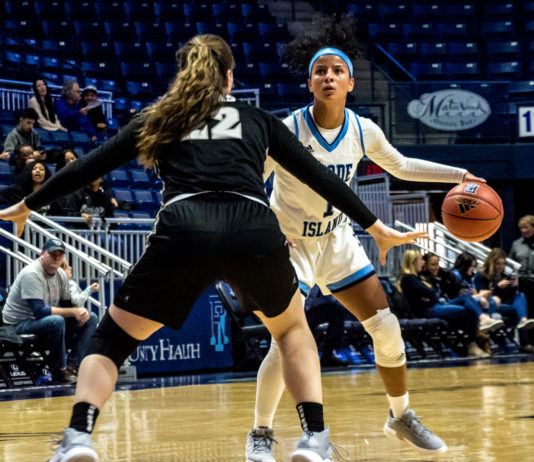 Photo by Autumn Walter | The Women's Basketball team won in the Ocean State Tip-off Tournament. The University of Rhode Island Women's basketball team was crowned champions of the Ocean State Tip-Off Tournament this past Sunday, an event they hadn't won a game in for the past two years. The tournament...
Skills that embody a star soccer player include composure, leadership, the ability to follow instructions and knack for a big moment. Tyler Dickson, a graduate student from Lanoka Harbor, New Jersey, displayed all of these traits and more throughout the 2018 fall season and is the Cigar Sports MVP...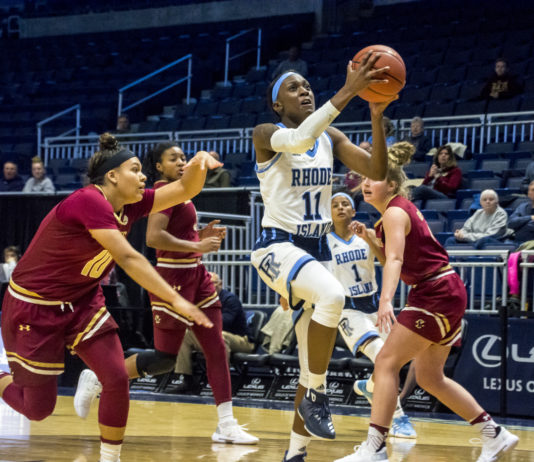 Photo by Autumn Walter | Elemy Colome attempts to make a lay-up. The University of Rhode Island women's basketball team is officially back for the 2018-2019, splitting their first two games. The Rams were looking for their third straight home-opening win when they took on the Boston College Eagles this...
Photo by Anna Meassick | Men's soccer beat Fordham in the quarterfinals of the A10 Championships with a score of 2-0. When the calendar hits November, many people tend to think it's the time of year for leaves falling, colder weather and the start of the holiday season. For the...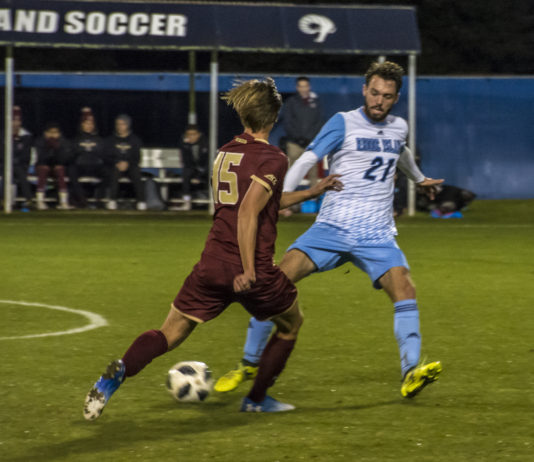 Photo by Autumn Walter | URI's Liam Daley goes in to steal the ball from Boston's Lasse Lehmann. Two games for the Rhode Island men's soccer team resulted in two different outcomes that had contrasting circumstances. The Rams traveled to Duquesne University to take on the Dukes in a showdown of...